OVERVIEW of Rabbit Hill Inn
There is so much to like about the 200+ year old Rabbit Hill Inn in northeastern Vermont that it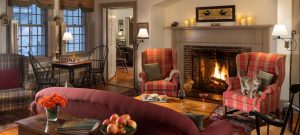 is hard to know where to begin. The best place, I guess, is with the innkeepers who after nearly 20 years still enjoy welcoming guests and it shows in their warm and gracious hospitality. The buildings and property are immaculately maintained. The rural setting is tranquil and soothing. The staff is happy and friendly. And, the restaurant is a revelation. That this inn, far from anyplace, was nearly full on a Sunday night in the shoulder season, (after foliage and before snow) speaks volumes for its appeal.
THE ROOMS at Rabbit Hill Inn
There are 19 rooms in three buildings; four Classic, six Superior and nine Luxury. All are beautifully decorated with a different style and personality. Their site's amenities chart helps to differentiate between the rooms. My room, the Samuel Hodby (one of the Luxury Rooms) had a private entrance, a shared porch that overlooked the valley, a fireplace and a 48 jet double whirlpool. Decorated with antiques and in shades of hunter green and burgundy, it was a large comfortable room with a king canopy bed and a couch and chair sitting area around the fireplace. Despite the modern amenities, vestiges of the past remain that add character to the room; the fireplace brick and mantel, the latch doors, the pine plank floors and the bookcases. Luxury linens and towels, a CD player with soothing music choices, every bathroom toiletry you can imagine, plush robes and a coffee maker round out the list of amenities that will make it hard for you to leave your room. With no TV, phone or Internet (except in the public rooms) you'll have no excuse not to relax and focus on your partner.
DINING at Rabbit Hill Inn
The candlelit breakfast is a delight, offering fresh-baked treats, fruit, yogurt, our homemade granola, and juices. You also get a choice of two hot entrees such as a Breakfast Rueben – fried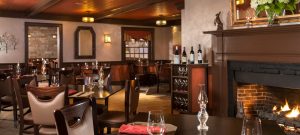 eggs atop layers of onion rye, sweet kraut, corned beef, and a light Swiss cheese sauce. Or, maybe it's Corn & Couscous Pancakes with apple relish, house-cured & smoked ham, and of course plenty of Vermont maple syrup.
Before dinner you'll want to start with a drink at the Snooty Fox Pub, a small three seat bar with 3 beers on tap and about a dozen wines by the glass. Shoot some darts, play a game or chat with Brian. There are two dining rooms and both are warm and cozy, one with a fireplace.
Some recent menu highlights: appetizers: Beef Tartare; cured duck yolk, potato chips, green garlic, peppadew pepper, pickled onion:
Small Axe Farm Greens: Four Meadows chevre, puffed wild rice , roasted grapes,  burnt honey, Banyul's vinaigrette. Entrees: Lamb Two-Ways; loin & belly, pea variations, raised lettuce, preserved lemon, buttermilk,  sumac, lamb glaze; Wagyu Sirloin Steak
crispy potato, shallot marmalade, blue cheese butter, RHI steak sauce; Braised Rabbit Ragout
carrot gnocchi, spring vegetables, Parmesan, brodo. Desserts: Thai Chocolate Cake ginger / red & green curry, lemongrass , lime, chili, coconut milk, peanuts, Thai iced tea; Ricotta Fritters
rhubarb, cardamom, orange.
The 40 item wine list may be short on quantity, but it is huge in quality and value. Nice choices at even nicer prices.
SERVICE at Rabbit Hill Inn
Too many inns and B&B's are vanity projects where owners turn over management to someone else. Sometimes that works and other times it doesn't. Here the owners are the operators as well and they work hard at making sure everyone is comfortable and happy. You would have to search far and wide to find two nicer innkeepers than Leslie and Brian. They are always around, always asking if they can help, yet in a way that is anything but obtrusive.

THE RATES at Rabbit Hill Inn
From $428 Peak Season Weekend
WHAT OTHERS SAY About Rabbit Hill Inn
"Hop away from it all at this "hidden gem" in Lower Waterford (85 miles from Burlington), a "historic" inn on 15 acres "surrounded by the natural beauty of rural Vermont", a swimming pond and White Mountain views: visitors are treated "like royalty" in "pleasant", antiques-furnished rooms, many with double whirlpool tubs and fireplaces (but no telephone or TV): the dining room serves up "world class" New American cuisine as well as a candlelit breakfast." ZAGAT
Named one of the "Top 10 Inns in U.S. and Canada" by Travel & Leisure Magazine
PROMOTIONS at Rabbit Hill Inn
Click here for this property's promotions