OVERVIEW of Pitcher Inn

About 30-45 minutes south of Stowe on Rt. 100 is the picturesque little hamlet of Warren, Vermont, just outside the Sugarbush ski area. With a covered bridge and an authentic general store, it is the quintessential Vermont village. After the original 1800's building burned to the ground in 1993, David Sellers and a team of architects set about rebuilding The Pitcher Inn with an eye toward preserving its original design but with the rooms patterned to reflect the individual designers' interpretation of a particular Vermont theme. The result is nothing short of spectacular.
THE ROOMS at Pitcher Inn
There are nine rooms and two suites, each decorated with its own theme and they are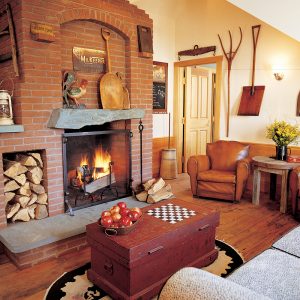 architectural marvels. Mallard Room, where I stayed, is described this way by the Inn, "Mallard is an emperor's duck blind. The designer's conception of the room was a Vermont marsh just before sunrise in November. Indeed, the curved, painted ceiling seems a dawning blue sky, and a wooden Canada Goose suspended from the ceiling moves with the direction of the wind. Antique decoys and guns, a king-size hand carved bed, camouflage pillows and a view of the garden make the Mallard Room a duck hunter's paradise." Colonial and School are the smallest rooms, Chester A. Arthur and Calvin Coolidge are the favorites with King beds, balconies, fireplaces, Jacuzzis and steam showers.
DINING at Pitcher Inn
275 Main is the signature restaurant. Trey ceiling lighting and two large stone fireplaces cast a warm golden glow over the two dining rooms. Wide plank pine floors and crisp white walls adorned with striking oil paintings were set against sage green trim, doors and Windsor chairs. Fireplace flames flickered in crystal stemware and flower filled vases. Both dining rooms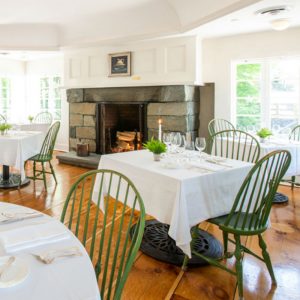 overlook a brook rushing to a small waterfall. With Sinatra in the background we were ready for what the evening had to offer…and it was quite spectacular.
The menu changes often dictated by the availability of fresh local products. On this night we started with truffled potato ravioli with fall-off-the-bone braised short ribs, butter poached lobster with a warm vanilla sweet potato salad and seared foie gras with a caramelized apple-sweet potato gratin, pistachio brittle and Calvados sauce. Each so good we were reluctant to share.
For entrees we selected a pan roasted duck breast with leeks served with roasted sweet potatoes, pistachios and a cipollini onion jus; braised lamb shanks with a Flageolet bean ragout; parmesan gnocchi with baby carrots, mushrooms, spinach and roasted peppers and a grilled Vermont grass fed beef tenderloin with Colcannon potatoes and a blue cheese fritter. We ended with a delightful Vermont cheese course, a decadent chocolate pot, an apple tart and a maple crème caramel.
The wine list is quite extensive with some 600 bottles and choices from all of the major wine regions. They offer about 30 wines by the glass and about 20 ½ bottles. We found a delightful
Italian white imported by Joe Bastinach, son of famed TV chef Lydia Bastinach for @$40. Sadly, as with many wine lists, there is not much at all under $50 and most bottles are pretty expensive.
The intimate Wine Cellar is the first choice for seating, but truthfully you will enjoy just about any table. The stone patio overlooking the brook is open in nicer weather.
After dinner, retire to the charming pub, Tracks, downstairs for an after dinner drink and perhaps a game of pool or shuffleboard.
THE SERVICE at Pitcher Inn
The service in the Inn is pleasant and efficient, your needs are addressed promptly, but no one hovers. Check-in was quick and all the room features were pointed out when we were taken to our room. In the restaurant, our server was a young woman whose extensive knowledge of both the menu and wine list helped us navigate the waters and resulted in some great selections. She even had us taste an open bottle of the wine we selected to be sure we would like it, then asked if we preferred a marble sleeve or a wine bucket to keep it chilled. Never had that happen before.
THE RATES at Pitcher Inn
From $720 Peak Season Weekend
WHAT OTHERS SAY About Pitcher Inn
Relais & Chateau property
"Like a B&B on steroids", this "delightful" Relais & Chateau property "redefines what a luxurious inn can be" with its "uniquely themed and decorated" rooms – each "is a flight of architechural fancy" – "incredible", "gracious and sincere" service and "superb" on site dining (the "chef is a goddess"), plus you can "do puzzles" "after dinner by the roaring fire"; even those who warn about the "hefty bill for your journey" admit this "modern Alice in Wonderland" experience is "worth it". ZAGAT
PROMOTIONS at Pitcher Inn
Click here for this property's promotions.