OVERVIEW of Twin Farms
When Nobel prize-winning author Sinclair Lewis proposed to journalist Dorothy Thompson, she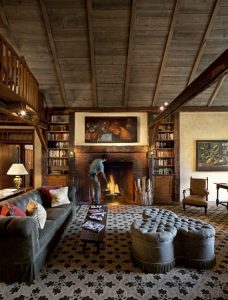 promised to marry him if he bought her a farm in Vermont with sweeping lawns, orchards, and "delicious air." They found their idyll in a 1795-era farmhouse on 300 acres — all of which they purchased in 1928 for $10,000. The property changed hands a number of times over the years, but opened to national acclaim as a small hotel in 1993.
Set on 300 acres of rolling hills in the heart of Vermont and the Green Mountains, Twin Farms is one of the most magnificent properties you will find anywhere. The rooms are without a doubt among the best we have seen in our travels. They are a decorator's dream come true. Conde Nast Traveler magazine awarded the property an overall rating of 96 (out of 100), a perfect 100 for design and a perfect 100 for rooms.
The Main House of Twin Farms was originally an old farmhouse that has been beautifully restored and houses 4 bedroom suites, the Dining Room, the Barn Room (living room), a bar room and the Game Room. Decorated with magnificent antiques and an eclectic (and sometimes bizarre) art collection, the Main House is both comfortable and elegant. The Dining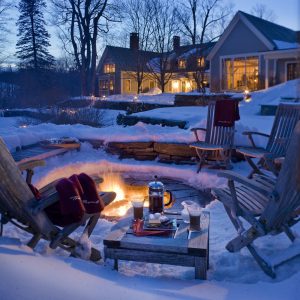 Room is anchored by huge stone fireplaces, has a central area and an enclosed porch where French doors open onto a stone patio. Thick olive curtains grace the windows, the ceilings are beamed and the furniture is a twig and leather Adirondack style. The Barn Room is a comfortable living room with bookcases, sitting areas of couches and easy chairs, a large stone fireplace and an upper level library accessed by a spiral staircase. The Bar Room is warm and cozy with striking plaid furniture set against polished wood walls.
THE ROOMS at Twin Farms
Each room is decorated with a different theme and while that approach usually leaves me cold, the execution here is breathtaking. Even the room's whose themes were not necessarily my style preference (Moroccan and Japanese?), were spectacular. The Chalet, the largest cottage, may be the most magnificent we have seen anywhere. Pictures on their web-site do not begin to convey how special these rooms are. In person, one room is more awe-inspiring than the next.
Aside from the obvious design flair, all the rooms are huge, 1000 sq. ft and up to 3000 sq. ft, bathrooms are as large as most NYC hotel rooms and amenities like steam showers and other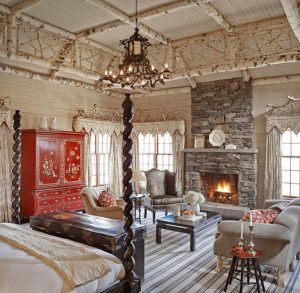 homey touches abound. What really distinguishes this place from others is that each room is strategically placed on the property to take advantage of a particular view through large oversized windows; a meadow of wildflowers, a cluster of tightly planted birches, tree tops or a rolling hillside.
Our wonderful suite, the Grotto, was located in the Lodge, next to the Main Building and up a group of stone steps. This building houses another suite, the Hillside, a large common area Great Room and a delightful porch with rocking chairs overlooking the ski run. It's ideal for two couples traveling together.
Decorated in a soft beige and rust palette with crisp white crown moldings and period antiques, no creature comforts are spared in the rooms. A wonderful club chair and ottoman next to the tiled front fireplace and a cozy book lined window seat overlooking the meadow were perfect for curling up with a book. Complimentary port, sherry and assorted cheeses are set on a side table. The plump 4 poster hi-boy bed covered in luxurious 300Ct. sheets made it hard to get up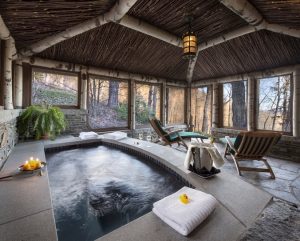 in the morning. The bathroom suite had heated towels and heated floors, a full size steam room and a deep soaking tub. As if that weren't enough there's a flat screen TV, a DVD players (and plenty of choices in the Main House) and a Boise CD player.
Other favorite rooms; The Guest Room and Dorothy's Rooms in the Main House; Woods Cottage and Willow and Maple at The Barn at the new Copper Hill. These have wonderful screened porches overlooking the Pond.
DINING at Twin Farms
The kitchen is under the direction of Executive Chef Nathan Rich, most recently from the Lake Placid Lodge.  He was awarded Relais & Châteaux Rising Chef Trophy in 2013. There are no menus at Twin Farms, so dining is a particular adventure. Guests can dine in the main dining room, at the Chef's Table in the kitchen, in the Wine Cellar or in their room.

Breakfast
Breakfast, as with other meals, offers no menu .your server recites the morning specials or you can just order whatever you would like homemade oatmeal, kippers, French toast, the list of what is available is quite amazing. We started with a bowl of fresh fruit, some delicious blueberry scones and then softly scrambled eggs with scallions, ham and mushrooms. Had to try the homemade corned beef hash which was absolutely wonderful. Excellent coffee and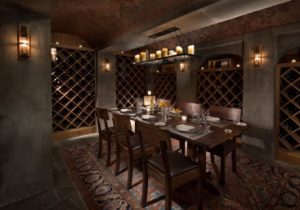 freshly squeezed juices rounded out a great start to the day.
Lunch
Lunch upon our arrival set the tone for what was to come at other meals. It began with a cup of cauliflower soup and while cauliflower is not one of my favorite foods, this was perfectly seasoned with a peppery overtone and a rich yet not heavy texture. The soup was followed by a salad of field greens and a delightfully light vinaigrette dressing. The entrée was thinly sliced corned beef served with caramelized onions and BBQ sauce over crusty rye bread. A wonderful and fruity red zinfandel accompanied the meal. Fried crepes with cinnamon sugar and a raspberry coulis completed a most satisfying lunch.
Dinner
The evening meal begins with guests congregating in the Barn Room for cocktails and hors d ouevres around a roaring fire. Chef Rich's ever changing menu reflects the changing Vermont seasons and much comes from Twin Farm s own organic vegetable and herb gardens and local purveyors.
Our amuse bouche was braised hen, mushrooms and spaghetti squash over a pumpkin seed polenta. Baby lettuce served as the base for a rare tenderloin and ricotta salad with a cranberry compote as a first course. Our entree, out-of-the shell poached lobster, was served over an heirloom tomato couscous with a wonderful and light spinach garlic broth. For dessert, we enjoyed a fruit soup bursting with fresh papaya, green apple, pear and strawberries. Mixed with a bit of sauterne wine and served with a caramel crisp. Refreshing and naturally sweet.
We were served a delightful small production Russian River Pinot Noir and an excellent Patz & Hall chardonnay during our meal. The chardonnay was made in the French white burgundy style and was perfect with the lobster. The wine cellar numbers some 15,000 bottles and you can request whatever you like. The more premium wines carry a supplemental charge.
Meals, liquor and wine are included in the room rate.
THE SERVICE at Twin Farms
Our first experience with the kind of service Twin Farms offers was right at the beginning of our trip. We encountered an unexpected snowstorm on our way up, got stuck on a highway that had yet to be plowed and thankfully got a ride to within 20 minutes of the Inn. They cheerfully came and picked us up and then took us back to our car the next day, some 30 miles away.
Brenda, the Recreation Director, with Twin Farms for about 12 years, took us on a wonderful tour of the property and rooms, regaling us with its history and the rationale and strategy behind the design and location of each room. Seldom have we encountered someone who so truly loves their job as she does. Interestingly, she would not even drive past some of the more secluded cabins for fear the sounds of the car might disturb the guests.
Our favorite "service" story, though was told over cocktails one night. A guest with unusually small feet couldn't find a pair of ice skates to fit. Brenda promptly drove to town, purchased a pair of skates in the right size and returned to allow the guest an enjoyable afternoon of skating.
THE RATES at Twin Farms
From $2,600 Peak Season Weekend. Rates are based on double occupancy and include daily breakfast, lunch, afternoon tea, and dinner, all beverages, wine, and unlimited
use of all on-site recreational facilities (equipment supplied).
WHAT OTHERS SAY About Twin Farms
Forbes Five Star Award
Relais & Chateau Property
"For a "magical stay where every wish comes true", pampered patrons head to this "across the board perfect" resort in "rural Vermont" voted the No. 1 Small Hotel, as well as No. 1 for both rooms and service in our survey, each of the quarters is "like a world unto itself", an "exemplary" staff is "invisible yet always there", and the food and wine "measure up by any yardstick" (the "master sommelier and chef work in divine unison"); it's all "absurdly amazing" and "absurdly expensive"- so wags warn "have a hedge fund close by when the bill arrives." ZAGAT