OVERVIEW of the Inn at Langley
Whidbey Island is a wonderful weekend retreat, particularly for Seattle and Portland city dwellers. Its natural beauty, local wineries, farm-to-table restaurants, outdoor activities and quaint charm make an ideal place to relax and unwind. The island is about 30 miles north of Seattle, and is about 55 miles long and 12 miles wide. The cities of Langley and Oak Harbor are the largest towns and the island population suits at about 70,000 people.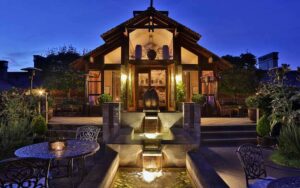 The town of Langley overlooks Saratoga Passage, borders Puget Sound, and offers amazing views of Mount Baker and the Cascade Mountains. It is home to an eclectic band of writers, artists, performers and creators. The quirkiness of this town was evident during one visit when the entire town turned out for Oscar Night at the local vintage movie theater. Klieg lights, red carpet and all. Everyone came dressed as a nominee.
The Inn at Langley is a vibrant member of a vibrant community, renowned for its restaurant and hospitality.
THE ROOMS at the Inn at Langley
It would be hard to find more comfortable rooms. A wood burning fireplace, amazing views, a a soaking tub, balcony/patio to enjoy the view, great beds and shower. Just doesn't get any better.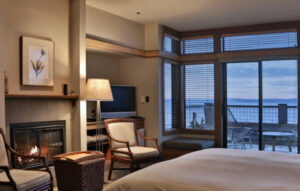 The Inn at Langley has sixteen waterfront king guestrooms, six waterfront corner king guestrooms
and two larger guestrooms with two queen beds. Each waterfront guestroom features a 180-degree view of the Saratoga Passage and a large outdoor porch-style balcony. All waterfront king rooms are spacious and are approximately 400 square feet. Guestrooms 36 and 46 are larger units at 600 square feet and contain two queen beds. Every room includes a soaking tub, wood-burning fireplace and a complimentary buffet breakfast each morning.
Two cottages sit on the bluff as town homes overlooking the Saratoga Passage and are 940 square feet in size. The open living area includes a wood burning fireplace,  a small water closet and two private patios. The lower level has the master bedroom with a king sized bed, a second wood burning fireplace and a full bath with soaking tub.
The Inn's two suites, the Saratoga and the Gallery, are 1,500 square feet, boasting beautiful local architecture and interior design. A private deck faces panoramic views of the Saratoga Passage. Each suite features a fully outfitted kitchen, gas fireplace, and over-sized soaking tub.
DINING at the Inn at Langley
The restaurant is under the direction of Chef Matt Costello (a James Beard nominee) and Sous Chef Emily Bell. It overlooks the garden and features a double-sided river rock fireplace. An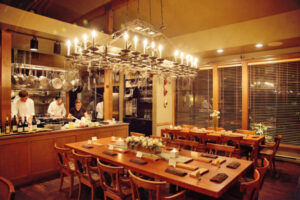 open kitchen allows you to watch all the chefs prepare a multi-course dinner, featuring Whidbey Island and ingredients from around the world. Dinner is served every Friday, Saturday, and Sunday night year-round and Thursday through Sunday nights during the summer months of July-August. There is one seating per night.
Exceptional wine list with an emphasis on Washington and Oregon wines. May be the most reasonable pricing we have seen in a top quality restaurant. Had they applied, this list would surely have won an award from Wine Spectator.

THE RATES at the Inn at Langley
From $435 Peak Season Weekend
WHAT OTHERS SAY About the Inn at Langley
"The setting alone, overlooking Saratoga Passage, may be enough to rank this place firmly among the best small inns in the region. However, Japanese-influenced styling, soaking tubs with water views, and fireplaces are all welcome luxuries at this romantic retreat." Frommer's
PROMOTIONS at the Inn at Langley
Click here for this property's promotions.