OVERVIEW of Glen Gorden Manor
Every so often we come upon a property that is so exceptional that we just can't wait to tell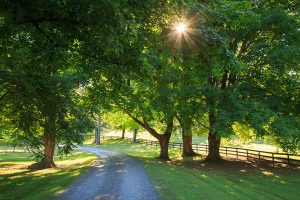 everyone about it. Such is the case of Glen Gordon Manor in Huntly, Virginia. This is our best find thus far in 2020. Set on 45 acres in the Shenandoah Valley at the base of the Blue Ridge Mountains, Glen Gordon began life @1833 as a stage coach stop. Later it was an upscale hunting lodge that entertained members of the British Royal family.
In 2005, the property was purchased by Dayn Smith and his wife Nancy Moon and they have transformed this wonderful property into one of the best weekend escapes on the Eastern seaboard. Exquisite room design, world class dining and a Wine Spectator award winning wine list make this worthy of anyone's "bucket list." The bucolic setting with spectacular mountain views, horses running in the fields, chickens and roosters in the yard will calm even the most ardent Type A.
THE ROOMS at Glen Gorden Manor
There are 10 rooms and suites, decorated in soothing colors with wonderful antiques, quality furniture and window treatments and stunning artwork. Some rooms feature two headed rain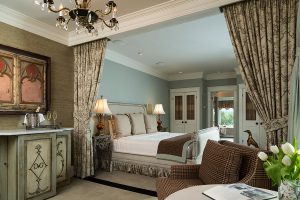 showers, claw foot tubs, IPads, private porches and more.
Beds are draped in luxury linens and duvets and modern bathrooms feature fantastic showers with lots of pressure, thick towels and luxury bath amenities.
My favorite room is the The Kenmure Suite  located in the Mews Cottage atop a hill about 50 yards from the Manor House. Very private with great views, a sitting area, a private porch and a large bathroom with a claw foot tub and glass enclosed shower.
DINING at Glen Gorden Manor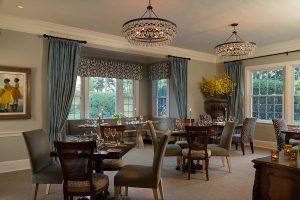 Chef/owner Dayn Smith began his culinary career at the Culinary Institute of America and became an executive chef at the early age of 21, followed with successful stints at renowned hotels and restaurants throughout the U.S., Puerto Rico, and Switzerland. He has been featured in numerous publications and TV shows, including Great Chefs of the World. He also competed in the Culinary Olympics in Frankfurt, an exclusive invitation-only event for award-winning chefs.
Guests dine in the main dining room, or in the cozy Hunt Room as we did, overlooking the pool.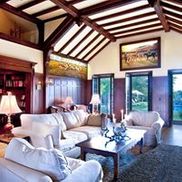 With just two tables, the Hunt Room was intimate and private. Dinner features five courses for $99 with wine pairings a very reasonable $49 from an excellent list. The menu changes often, but we started with a Tr-Colored Beet Salad with almonds and goat cheese that was paired with a 2018 Les Petits Roucas Sauvignon Blanc. Next up a Golden Gazpacho with cucumber sorbet paired with a 2017 Willm Reserve Pinot Blanc. A Triene of Duckling followed with a dried cherry sauce and an apple and fennel sald. This was paired with a delightful 2017 Leese-Fitch Pinot Noir. The main course was a Prime Aged Tenderloin with a port shallot reduction served with a 2017 Ravenswood Merlot. Dessert was a wonderful Chocolate Caramel Dome with vanilla creme Chantilly, raspberry vanilla swirl ice cream and a salted caramel sauce.
Breakfast started with a delicious banana nut bread, was followed by a house made granola with fresh fruit and then by a Spanish egg fritatta served with Manchego cheese and chorizo. Wouldn't have thought to put these things together for breakfast, but it was wonderful.
THE SERVICE at Glen Gorden Manor
The staff is pleasant and engaging. After check-in, which was quick and efficient, we were offered a glass of Champagne and shown around the property.
The wait staff in the dining room was as professional as we have seen in any restaurant. After dinner we asked our server, Dana, how early we could get coffee in the morning. She led me into the kitchen, set up the coffee pot and told me how to get it started whenever I wanted in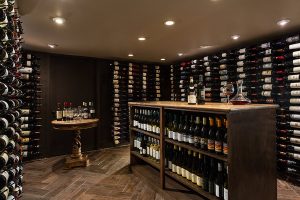 the morning.
THE RATES at Glen Gorden Manor
From $349 Peak Season Weekend. Packages available.
WHAT OTHERS SAY About Glen Gorden Manor
Select Registry property
Travel Advisor Certificate of Excellence – Hall of Fame
Wine Spectator Award of Excellence
PROMOTIONS at Glen Gorden Manor
Click here for this property's promotions.