Zuni Café is a warm and inviting restaurant with soft lighting, big picture windows, a copper bar,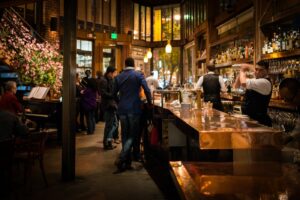 a roaring wood fired oven and piano music. The interior is kind of rustic chic divided into intimate rooms on multiple levels. It is a favorite of foodies near and far and is also on GQ's list of "22 Restaurants We Go Back to Over and Over".
The restaurant has won James Beard Foundation Awards for their cookbook, for Outstanding Restaurant in the Country, for Outstanding Chef and for Outstanding Service.
The menu is diverse and interesting and makes great use of a wood burning oven. But as Billy Joel's Piano Man says, "…but he knows it is me they are coming to see." This restaurant is all about their famous roast chicken.
Served for two people, a 3 lb organic chicken is seasoned with salt and pepper and then refrigerated for 2 to 3 days to allow the seasonings to sink in and permeate the meat. When ordered, the chicken is placed in a wood burning oven at a high temperature, rotated and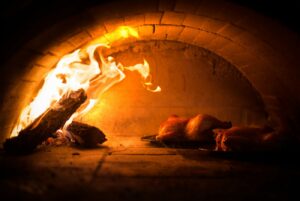 turned twice to insure even browning. The result is moist meat and crisp skin.
After it is rested and carved, the chicken is placed upon a warmed currant-studded bread salad of bitter greens, scallions, garlic, and pine nuts tossed with olive oil, Champagne vinegar dressing, and red wine vinegar.
OMG, I could eat this every night. It takes 60 minutes to prepare, but you can enjoy your wine and some apps in the meantime. Pair the chicken with a Muscadet "Orthogneiss" Domaine de l'Ecru or a Gini Soave Classico.
ROMANTIC QUOTIENT
I love the warmth of this place for a romantic dinner and what better way to bond than over a delicious roast chicken
WHAT OTHERS SAY
"Ask anyone in San Francisco for a restaurant recommendation, and chances are Zuni Café will be near the top of the list. Zuni isn't the trendiest place with the splashiest fare, but the Market Street restaurant, celebrating its 40th anniversary, has been a hip destination since it opened in 1979" New York Times