Bix is a throwback to the days of the old supper club. It would have been called "swanky" back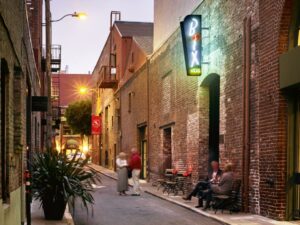 then. It's a place for ice cold martinis, cool jazz and meeting people. Tucked down an alleyway, it almost feels like you've come upon a speakeasy. The two story venue has a main floor and a mezzanine that oversees all the action. Soaring columns, wood paneling, cozy banquettes and stunning artwork create a wonderful vibe. Bartenders in crisp white jackets serve up some of the best classic cocktails in the City. Service is professional, but friendly. Live jazz entertains every night.
The menu has a lengthy list of appetizers making it equally appealing for just drinks and apps or as the start of a complete dinner. There are Fresh Oysters and Shrimp Cocktail plus Potato Pillows, Crème Fraîche, California Sturgeon Caviar; Deviled Eggs with Truffles, Radish; Dungeness Crab Rolls, Toasted Brioche, Chive; Fried Green Tomatoes, Burrata, Comeback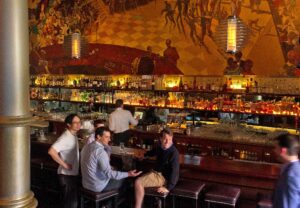 Sauce, Green Tomato Chutney and Steak Tartare, Shallots, Capers, Parsley, Mustard, dressed tableside.
For entrees you can enjoy Alaskan Halibut, Tomato Dashi, Pickled Japanese Cucumber, Fennel, Dill, Radish; Lobster Spaghetti, Cherry Tomatoes, Jalapeños, Basil; Chicken Hash à la Bix, Mascarpone Vodka Sauce, Cherry Tomatoes, Chives; American Wagyu New York Steak, Creamed Spinach, Pomme Dauphine, Truffle Aïoli, Horseradish Cream and more.
For dessert, don't miss the Gold Street Foster with dark rum, bananas and vanilla ice cream.
Nice wine list with about 20 choices "by the glass" and reasonably priced. The full list has plenty of selections under $75. Any wine list that has Spottswoode Sauvignon Blanc (my favorite) is a good list in my book.
ROMANTIC QUOTIENT
This is a very romantic restaurant and after a couple of martinis….who knows?
WHAT OTHERS SAY
2023 Best Sexy Restaurants in San Francisco. Gayot
2023 Best Romantic Restaurants in San Francisco. Gayot