Tadich Grill is the oldest continuously operating restaurant in California and the third oldest in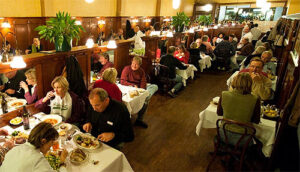 the United States.  Their servers average 33 years in the industry and 16 years at Tadich Grill. It's quite incredible that a restaurant that is 174 years old has maintained its popularity and reputation through all those years.
Tadich Grill epitomizes the term "old school" from its white jacketed servers to the crisp tablecloths to the classic martinis. Guests can dine at a very large oval counter or in cozy booths spread throughout the room.
But the food is pretty special too. Much of the seafood is cooked over a mesquite wood grill, a technique they claim to have invented. You won't find a better Cioppino or Crab Louie in town or enjoy favorites like Sand Dabs, fried and served with a wine, butter and caper sauce. There are classic dishes as well, like Lobster Thermidor, Oysters Rockefeller, Dungeness Crab Cakes and New England Clam Chowder.
Decent, all-California wine list with interesting choices and very fair pricing. Lots of bottles under $100.
ROMANTIC QUOTIENT
The romance here is for a bygone age when life seemed simpler.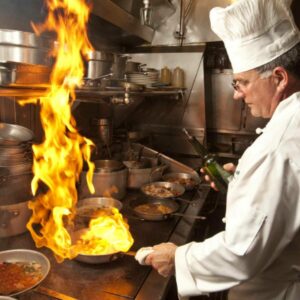 WHAT OTHERS SAY
"Crossing the threshold feels like walking into a men's club, with dark wood, brass accents and private booths that over the years have seen more than their share of deal-closing lunches and occasional indiscretions.  The menu of seafood, creamy casseroles and hearty stews may be the draw for many, but continuity and nostalgia is what brings most back day after day, week after week, year after year." San Francisco Chronicle
"Tadich Grill One of the World's 10 Great Classic Restaurants Well Worth Visiting." Forbes Magazine