What a gutsy move to have a restaurant with mostly outdoor dining to have to roll the dice with Mother Nature every day. Fortunately, Zoubi wins most of the time and when it doesn't there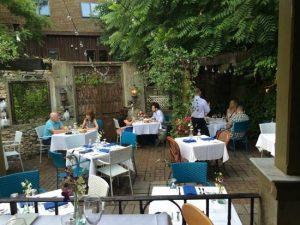 are awnings for the faithful and now some indoor seating.
The entrance is a narrow passageway, past the small bar and down a few steps into a courtyard surrounded by vine covered stone walls. Cut into the walls are iron grated windows and gates and huge candles flickering in the night air. The 20 or so tables are adorned with white table cloths and candles and shimmering tableware. A very romantic scene and one very much enjoyed by the locals.
Head chef and owner Andre Le Noble was raised in St. Tropez and grew up with the kind of Provencal food served so well at Zoubi. The meal begins with crusty bread, marinated chick peas and olives. The menu is limited, about 10 appetizers and 10 entrees, but it is delicious. The crab cakes, loaded with fresh crabmeat and huge are worth the visit alone. They have become legendary in these parts. On my last visit, I enjoyed grilled jumbo shrimp in a delightful anchovy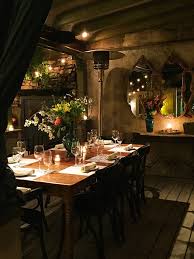 butter. The cooks out there know that when sautéed, the anchovies disintegrate and become nutty in flavor. I followed that with perfectly cooked diver scallops in a delicate port reduction. The scallops were crispy on the outside and delicate inside and the port added a nice sweetness.
The wine list is very small, about 17 wines and 4 champagnes, but well thought out and fairly priced.
The delightful courtyard is the place to sit in nice weather, or ask for table #42 inside, a private oasis overlooking the street.
ROMANTIC QUOTIENT: High