Anton's is located on the main floor of the historic Swan Hotel, just a few blocks from the center of Lambertville. A secluded, comfortable patio (on which you can enjoy cocktails) leads to a dark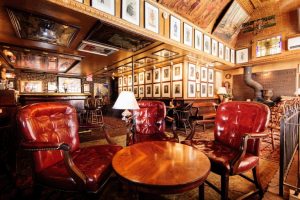 and cozy two tier bar area. The lower area has intimate tables along the paned window overlooking the patio. Antiques abound, the walls are adorned with oil paintings and collectibles and you feel as if you have been transported to another time. This delightful hideaway is a wonderful choice for a romantic and delicious dinner.
Chef/owner Chris Connor bought the restaurant from its founder Anton Dodel in 2001 after working as the sous chef since 1998. With no formal training, Chris is essentially self-taught, laying the foundation for his unique style in the kitchens of some of the state's best restaurants; Toto in Summit, Joie de Vivre in Madison, Doris and Ed's in the Highlands and the Frenchtown Inn.
Monthly menus are developed based on the availability of seasonal ingredients. On a recent visit, I started with the crab cakes with sweet and sour cabbage and tartar sauce. A great combination of flavors and the cakes were chock full of crab. My companion had a Thai themed,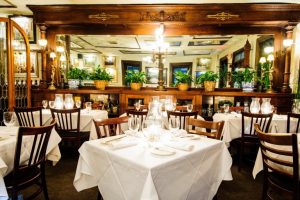 grilled shrimp with coconut rice and peanut sauce. Delicious. Have to try and recreate this one at home.
As an entrée, I had the grilled swordfish, with broccoli rabe and lemon and my companion had the rack of lamb, garlic mashed potatoes and red wine sauce. Simple and not terribly creative, but expertly prepared and presented.
The homemade dessert selections change frequently and are presented by long time pastry chef Brian Scott. We passed on dessert, but the ones carried to other tables looked awfully good.
The 100 bottle wine list is excellent in its breadth of choices and value. I applaud Chef Connors for avoiding the trend of wine list gouging. There are about 20 wines by the glass with modest $7-10 prices.
ROMANTIC QUOTIENT: High.
WHAT OTHERS SAY…
"Tucked away in Lambertville's historic Swan Hotel, this romantic New American charmer also earns kudos for chef-owner Chris Connor's consistently good seasonal menu in the dining room and more casual offerings in the coziest bar around; top-notch service and a pretty patio seal its rep as a special-occasion place." ZAGAT