Just a short 8 miles from the center of New Hope or Lambertville, an evening at the Sergeantsville Inn is a step back in history.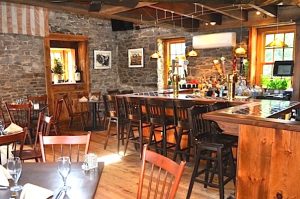 Rebuilt after a tragic fire, the new Inn has maintained the charm of the historic building while adding in modern conveniences. Stone walls, beamed ceilings, tile or clapboard floors, fireplaces and small intimate dining rooms create a most romantic setting. Crisp linens and gleaming tableware add a touch of elegance.
Arrive a little early for your reservation to enjoy a drink in the cozy pub. There's a remarkable martini menu, some 13 beers on tap and a nice selection of wines by the glass.
The menu is uber comfort food with a fantastic selection of game like an Elk Rack, Venison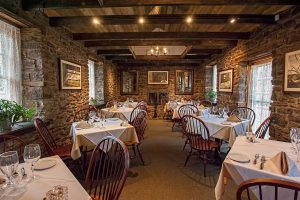 London Broil, Seared White Pheasant, Buffalo Hanger Steak and Texas Boar Rack. But you can also enjoy Australian Lamb Shank, Braised Boneless Beef Short Ribs, Soy Duckling, Pork Cassoulet, Shrimp Jambalaya and more.
This is a wonderful wine list, both for its variety and pricing. There are about 30 wines by the glass and @ 15 ½ bottles. The main list offers something from most wines regions in the world and the prices are pleasantly reasonable.
ROMANTIC QUOTIENT: Very romantic, sexy lighting, a warming fireplace and intimate rooms.
WHAT OTHERS SAY…
"Dripping with atmosphere, this Colonial-era structure in Sergeantsville features enough fireplaces and stone walls to lend a rustic feel to the swooningly romantic mood; the can't-go-wrong American menu also includes out-of-the-ordinary game dishes, while the less expensive tavern has neighborhood hangout written all over it." ZAGAT