It seems that every major city has some quirky restaurants that are not particularly well known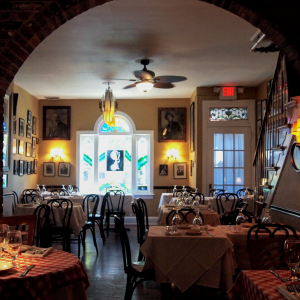 but beloved by locals and considered a "find" by visitors who happen upon it. Such is the case of Victor Cafe located in South Philly on a mostly residential street. Very good Italian fare plays second fiddle to the real draw….waiters and waitresses who break into song every 20 minutes or so. But, it's not just any song, it's classic opera.
Started by John Di Stefano in the 30's as his homage to the music he loved, the Cafe showcases wonderful local talent, most of whom are training for a music career. It's so enjoyable you can't wait for the next 20 minutes to pass and the bell to ring, signifying another singer.
But while the music is the headliner, the restaurant itself has a wonderful charm about it. Tin ceilings, hardwood floors, cafe chairs, Tiffany lamps and dark red or mahogany walls covered with photos of opera stars past and present create a, well….cafe look and feel. Cozy 2 person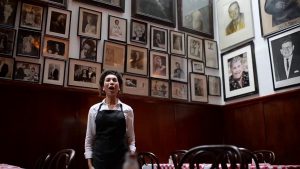 booths dot the wall by the entrance and are a perfect spot to watch all the action. Intimate tables set in the step-up back dining room are the second choice. The upstairs, open mostly for private parties and sometimes on weekends is particularly charming. Ask if it will be open when you make a reservation.
Too often at restaurants with a theme, the food suffers. Not the case here as we had a delicious dinner paired with excellent wine that made this a most enjoyable experience. We shared a couple of pastas as appetizers; one a terrific bolognese and the other a cannelloni of veal, ricotta, Parmesan, mozzarella topped with a sherry bechamel and tomato sauce. For entrees, my pan seared breast of chicken was stuffed with Fontina cheese and proscuitto and perfectly cooked, juicy with crisp skin. A tilapia fillet was expertly seasoned, moist and tender and a beef fillet special cooked with balsamic vinegar was wonderful.
Dessert was a shared Chocolate Grand Mainer Pot de Crème, a rich baked custard with biscotti del giorno and whipped cream.
The wine list, while not particularly long had some excellent choices and was reasonably priced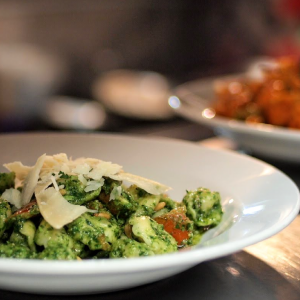 with selections like a $40 Gavi de Gavi and our selection, an Ocra Super Tuscan at $42. Plenty to like on this list.
ROMANTIC QUOTIENT: If Opera and good food get you going, it's pretty romantic, otherwise it's just great fun.
WHAT OTHERS SAY…
If you love good food with a little live opera thrown in", "what could be better" than this 1918 Italian "jewel" in Passyunk Square where the "enthusiastic" staffers "burst out into arias" so "romantic" "it's easy to get misty-eyed"; it's more about "the experience" than the cuisine, which is nonetheless "prepared with care and pride. ZAGAT