As the story goes, tapas style dining began when an 13th century Spanish king attributed his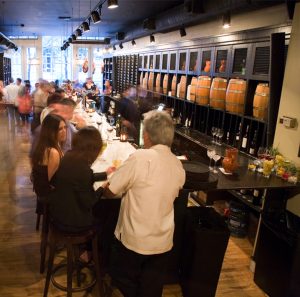 recovery from illness to eating small bites of food with wine between meals. So convinced was he of the merits of this style of dining that he decreed that no tabernas could serve wine without being accompanied with food.
Today that wonderful tradition is alive and well at Amada, a delightful Old City restaurant created by acclaimed chef, Jose Garces, that serves truly authentic Spanish tapas style food. The look is clean and crisp with hardwood floors and white and partial brick walls. There are two hardwood tables set in loose stones at the front, a raised platform table surrounded by flowing curtains (for 6 or more), red leather banquettes down one side of the room and seating around the open kitchen.
You'll want to begin your journey here in the intimate bar. It's a narrow room with dark wood and hardwood floors with a marble topped bar and barrels of sangria behind it. Have a cocktail, we loved the watermelon, basil mojito and the rosemary, lemon martini and then try some charcuteria y quesos (cured meats and cheeses), sliced right in front of you. The Serrano ham and manchego cheese served with a truffled, lavender honey was wonderful.
The fun of tapas is that you get to try a lot of things, not just one meal. Here's what we tried;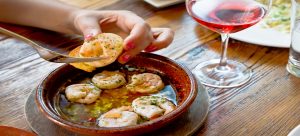 clams and chorizo, beef shortribs with horseradish, parmesan and bacon, chicken and beef brochettes served with lemon, garlic and parsley, charred green onions, spicy potatoes (fries with a sauce that tasted like the smell of burning logs, wonderful) and the signature lobster and seafood paella with fava bean salad and piquillo pepper aioli. What a fantastic adventure. Each dish better than the last.
For dessert, a port or sherry paired with a delightful chocolate concoction served 5 ways, a Spanish custard or a selection of artisanal cheeses is the perfect way to end the meal.
The 40 glass/bottle wine list is primarily Spanish and South American with a sprinkling of California, Italy and France. Some very interesting selections and all reasonably priced. The sangria, however, is something you must try. Served either with a spicy red or a crisp white, fresh chunks of seasonal fruit, herbs, orange liquor and Spanish brandy it is light, not too sweet and perfectly balanced.
The food here is so wonderful and the setting so comfortable that I urge you to have one meal here, lunch or late afternoon snack (Friday only) or dinner any weekend night.
If you are lucky, you might even see some Flamingo dancers.
ROMANTIC QUOTIENT: High. There is something intimate about sharing food with someone and in this sexy environment it's even better. The tables in the bar are very intimate, the front tables at the window would be my next choice or if you have a group, there is a raised platform table in the middle of the dining room with a curtain that encloses your table.
WHAT OTHERS SAY…
Jose Garces' flagship Spaniard in Old City "never disappoints" with its "fabulous" tapas, "delicious" sangria and a wine list "built to please", served by a "knowledgeable, courteous" staff; although some report "loud" conditions and caution "your wallet can empty quickly", most say it's "worth it for a special occasion." ZAGAT