One of my favorite restaurants in New York, is a wonderful Greek/Mediterranean called Avra,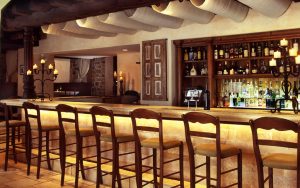 which is featured in our New York Profile. Coincidentally, on my visit to Estia, I found that it is owned by the same family. One brother is in NY, the other in Philadelphia. I'm told the brothers are quite competitive, so I won't get in a discussion of which restaurant is better, they are both delightful.
Architect Yianni Skordas has done a magnificent job in re-creating just what you would imagine a Greek taverna would look like. You can just picture it set on a hillside with its doors wide open and views to the blue Aegean Sea. An impressive display of fresh fish laid out on crushed ice greets you upon entering through iron gates and the open kitchen beyond expels delicious aromas. To the right of the entry is a wonderful sitting area with couches, plump chairs and a fireplace, ideal for a drink or just to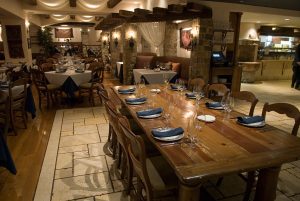 wait until your table is ready. Limestone floors in the entryway and bar area give way to wide planked floors covered with rich area rugs. Vaulted ceilings overhead, some with deep blue ceiling tiles, others with exposed beams draped in flowing sailcloth create an open and airy atmosphere. Iron chandeliers and sconces add a rustic touch. Arched doorways separate intimate dining areas with rustic farm tables and white cushioned ladder back chairs. Cozy dining nooks are created with upholstered banquettes. Whitewashed walls are covered with luxurious tapestries and olive trees are strategically placed around the rooms and to lend a kind of courtyard feel.
The menu features obscure fish species from the Mediterranean, sold by the pound and simply charcoal grilled with a lemon, olive oil, salt and fresh herbs like oregano. Servers are very knowledgeable about the fish and will guide you according to your tastes.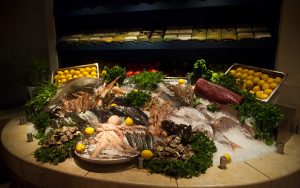 Before you get to the entrees though, try the Estia chips, thinly sliced zucchini and eggplant, lightly fried, salted and sprinkled with oregano and served with a cucumber, dill yogurt dipping sauce. Another delicious option; Spanakopita; leeks, scallions, spinach and feta cheese wrapped in phyllo.
If you are not in the mood for fish, the lamb chops, marinated for 3 days in olive oil, lemon, and fresh herbs or the roasted organic chicken served over caramelized onion and yogurt orzo with a lemon chicken thyme jus are both terrific.
When in Greece, you must have the Baklava, layered phyllo with almonds and walnuts with a honey syrup. Delicious.
The 300 bottle wine list features mostly Greek choices but also selections from Europe, Israel and Lebanon. Most choices are under $60. There are about 20 wines by the glass priced from $9-$13. I do not have a lot of experience with Greek wines, but our server was very helpful and thoroughly enjoyed her suggestion of a crisp, floral white.
Open every day for lunch and dinner. Excellent value 2 course $17 lunch menu and $30 pre-theatre menu. All credit cards accepted. Dress is upscale casual. Live music on Friday and Saturday.
The downstairs wine room is spectacular and ideal for larger groups.
ROMANTIC QUOTIENT: Grab a booth, sip some wine, enjoy the Mediterranean music and imagine you are on vacation. You'll find it hard to leave.
WHAT OTHERS SAY…
There's "no plate-throwing" – only "high-end" Greek dining "without the cliches" at this "intimate" destination off the Avenue of the Arts, where the staff makes diners "feel special" while serving "hard-to-find", "fresh" seafood and lamb shanks "like yaya used to make"; while some quip "each entree comes with a loan application", others point to the $19 express lunch and $33 pre-theater special. ZAGAT