The Terrace is located within the magnificent Charlotte Inn, one of the most beautiful inns we have ever seen. Set in a candlelit conservatory dining room and during the warmer months, garden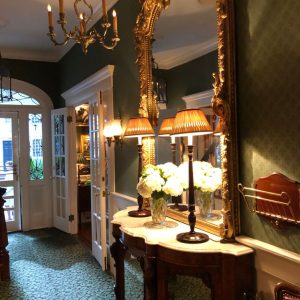 terrace, the restaurant is elegant and sophisticated. The cuisine is American with French influences and the menu is crafted from the bounty of local waters and farms.
I started my meal with a Wild Harvest Mushroom Fricassee that was rich and wonderfully seasoned. The Crispy Chicken Schnitzel, was an unusual menu item, but it was delicious and served with roasted island veggies, pommes puree and a pan sauce. Dessert was a simple by decadent Brownie Sundae with whipped cream.
Relatively small wine list but good choices and fairly reasonable pricing.
ROMANTIC QUOTIENT
May be the most romantic restaurant on the island, particularly on the garden patio in the summer.

WHAT OTHERS SAY…
The Terrace at The Charlotte Inn is one of Martha's Vineyard's best-kept secrets. Most people only find out about the Edgartown restaurant if they're staying at the Inn. But the informed (and very lucky) few who dine at this gem eatery have the opportunity to taste executive chef Justin Melnick's classic American fare, which – like most high-end restaurants – highlights local food,
including produce and seafood from island purveyors. The menu boasts New England delicacies prepared using French techniques, flavorful sauces and innovative desserts. The historic inn, which is carefully appointed with Edwardian-era antiques and surrounded by peaceful gardens, harkens back to a simpler time. Walk into The Terrace at The Charlotte Inn for a delicious meal and leave your worries at the door." Forbes Travel Guide