On my last visit to the Vineyard I was pleasantly surprised to find a new restaurant in Edgartown, the Atlantic Fish & Chophouse down at the end of Main Street. The ambiance, food, wine and entertainment were so enjoyable that I ended up eating there twice during my short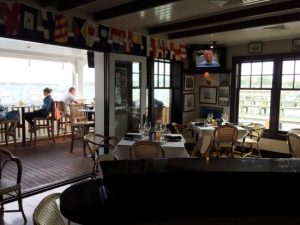 stay.  Created by restaurant veterans, Eli Levy and Jamie Zambrana, the 200 seat venue offers a variety of unique indoor and outdoor dining spaces and can accommodate groups of varying sizes.
The comfortable bar is a lively gathering spot for locals and tourists alike and the extensive list of craft cocktails and wines by the glass will please just about anyone. Whether you are looking for drinks and apps or a serious sit-down dinner this menu can accommodate and it's serious food.
Whatever meal you choose, start with some Katama Bay oysters or any fresh raw bar item and a glass of Dom Perignon ($39) or Veuve Cliquot ($22). Now, that's how to start a meal!
Lunch offers a raw bar, pizza, salads and burgers, but also items like Grilled Bacon, Peter Lugar style with whole grain mustard,  Street Style Shawarma Tacos with rotisserie lamb and veal, cilantro tahini and amba sauce and a Stuffed Goat Cheese Lamb Burger  with shaved cucumber and roasted red bell peppers.
Dinner features many of the same items but also steaks and chops and fresh seafood. Start

though, with one of their interesting appetizers. Maybe the A5 Hokkaido Japanese Beef Sushi with foie gras, wasabi and barrel aged maple syrup or the Merguez Sausage; spicy lamb sausages, frisee salad, tomatoes, cucumbers, radishes, green onions, pine nuts and pomegranate citrus oil.
For entrees I loved the grilled swordfish, seared calamari steak, squid ink Hollandaise and green onions and then on the second night the Osso Buco, Tuscan style osso buco, crispy cavatelli and a red wine pan jus.

For dessert, the Ottomon Phyllo; shredded phyllo, creamy mild cheese, orange blossom vanilla syrup and goat's milk ice cream was absolutely fantastic.
This is a serious wine list for serious wine drinkers constructed by someone who knows their wine. Rex Hill Reserve Pinot Noir "Shea Vineyards" is just one example. It has won the Wine Spectator Award of Excellence. It is a bit pricey, but there are also plenty of choices under $100.
Weekend entertainment through the season.