About 30-45 minutes south of Stowe on Rt. 100 is the picturesque little village of Warren, Vermont, just outside the Sugarbush ski area. A little bit of a trip, but I assure you it is worth the drive.
I think there must be a "perfect storm" for dinners when everything comes together to create an amazing evening. Such was the case when we went to the Pitcher Inn in Warren.
We were visiting friends whose vacation home is outside of Middlebury about a 30 minute drive over the mountains. It was one of those softly snowy nights in March, no wind, with a kind of hush over the small village we got to over a quintessential Vermont covered bridge.
Tray ceiling lighting and two large stone fireplaces cast a warm golden glow over the two dining rooms. Wide plank pine floors and gold and green painted walls adorned with striking oil paintings were set against crisp white trim, doors and green Windsor chairs. Fireplace flames flickered in crystal stemware and flower filled vases. Both dining rooms overlook a brook rushing to a small waterfall.
With Sinatra in the background we were ready for what the evening had to offer…and it was quite spectacular.
Our server was a young woman whose extensive knowledge of both the menu and wine list
helped us navigate the waters and resulted in some great selections. She even had us taste an open bottle of the wine we selected to be sure we would like it.
The menu changes often dictated by the availability of fresh local products. On this night we started with truffled potato ravioli with fall-off-the-bone braised short ribs, butter poached lobster with a warm vanilla sweet potato salad and seared foie gras with a caramelized apple-sweet potato gratin, pistachio brittle and Calvados sauce. Each so good we were reluctant to share.
For entrees we selected a pan roasted duck breast with leeks served with roasted sweet potatoes, pistachios and a cipollini onion jus; braised lamb shanks with a Flageolet bean ragout; parmesan gnocchi with baby carrots, mushrooms, spinach and roasted peppers and a grilled Vermont grass fed beef tenderloin with Colcannon potatoes and a blue cheese fritter.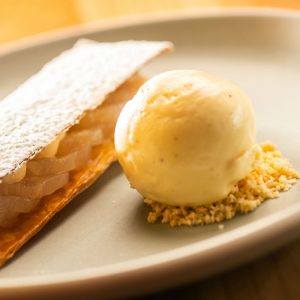 We ended with a delightful Vermont cheese course, a decadent chocolate pot, an apple tart and a maple crème caramel.
ROMANTIC QUOTIENT
High, particularly on the outside patio beside the rushing falls.
WHAT OTHERS SAY…
Conde Nast Reader's Choice Award
Maggie Maloney describes in the San Francisco Chronicle;  the Pitcher Inn as "a cozy and charming retreat perfect for a romantic escape"