A tip from a local in Stowe, took us to a quite amazing restaurant in Waterbury, about a 15 minute drive from Stowe. Hen of the Wood, is a collaboration of two old friends, both trained at culinary institutes, who talked for years about the place they would someday open.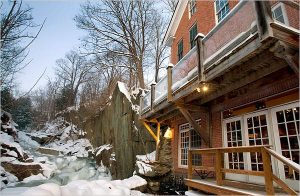 Using locally raised meats and game, organic produce and artisan cheeses they have created a menu that is both creative and so flavorful you will find yourself savoring every mouthful.
The owners have certainly learned from their experiences because everything from the setting to the food to the wine and the service has been artfully conceived. Set in an old grist mill, the restaurant has retained the charm of the historic building with its huge beams and stone walls and red wall accents, dark wood mission chairs, crisp linens and flickering candles bring elegance to the room. Add a rushing waterfall just outside the window and you have a most romantic ambiance.
The menu changes daily but here is what we enjoyed. I had to try the Hen of Woods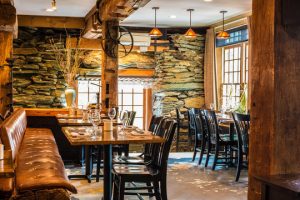 mushrooms and they didn't disappoint. Mixed with garlic, parsley and pancetta and served with grilled red hen bread the flavors were quite delicious. We also had perfectly grilled asparagus, wrapped with proscuitto and served with a mustard crème fraiche.
I am somewhat of a short rib aficionado; it's one of my favorite dishes. The ones I enjoyed here are among the best I have had. Braised in red wine with roasted shallots, they were perfectly seasoned and fall-off-the-bone tender. Served with garlic mashed potatoes, I was in heaven. Jen's tender NY strip was accompanied by fingerling potatoes, braised chard and a rich and flavorful cabernet sauce. Wonderful texture and depth of flavor.
Hard for me to pass up a cheese course and I was delighted to find such a wonderful selection of unusual cheeses. I picked two, added a glass of vintage port and that completed one of the best meals I had in quite some time. Jen, who seldom has dessert, had a strawberry rhubarb crisp with house made buttermilk ice cream that she talked about for days.
I love this 60-some bottle wine list for a lot of reasons that many other restaurants just don't get. Someone really took the time to think about what constitutes a good wine list. There are nearly 20 selections by the glass, about 10 ½ bottle choices, very interesting selections in each category and most importantly reasonable pricing.
DO NOT miss this wonderful gem when you are in the Stowe area.
What Others Say…
"The menus change daily at these laid-back Americans dedicated to serving farm-to-table fare sourced from local Vermont purveyors and paired with a thoughtful wine list. Lots of wood paneling, stone details and cool lighting create a rustic-chic atmosphere." ZAGAT