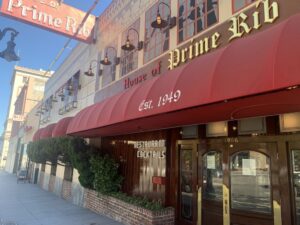 Originally opened in 1949, the House of Prime Rib continues to be a San Francisco favorite for its 21 day dry aged beef. There's only one thing on the menu – prime rib, in a variety of sizes. (well, they do have a daily fish catch) Served with a tossed salad, mashed or baked potato, creamed spinach (best ever!). Yorkshire Pudding and three heats of horseradish. They offer
The City Cut : a smaller cut for the lighter appetite.
House of Prime Rib Cut : a hearty portion of juicy, tender beef.
The English Cut : some feel that a thinner slice produces the better flavor.
King Henry VIII Cut : extra-generous, thick cut of prime beef, for king size appetites.
They don't take reservations for only one diner, so I took my chances and arrived at 5:15pm…there was a 2 hour wait for a table. Got a seat at the bar after 45 minutes and enjoyed the best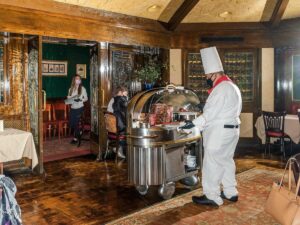 Prime Rib dinner I have ever had.
The decor is an elegant, somewhat dated English Club look with traditional furniture, white tablecloths, area rugs over hardwood floors and English hunt artwork gracing the walls.
Old school, vested servers in long white aprons mix salads tableside and the main course and accompaniments are served from strolling silver carts where each order is individually sliced.
The wine list is modest, but with fair pricing. Nice selection of 100 point rated wines.
ROMANTIC QUOTIENT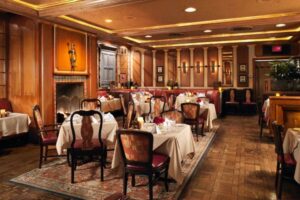 Not so much. One reviewer called it "controlled chaos, but in a good way."
WHAT OTHERS SAY
"The scene is gloriously fun to watch, but the food itself is also a big reason why every room in this palace is always packed." The Infatuation