State Bird is one of the most unique and fun places to dine that we have ever encountered. Not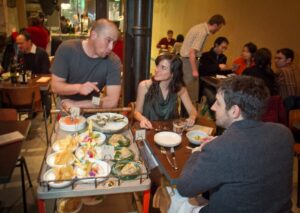 surprising, it is one of the toughest reservations to get in town. The restaurant has garnered accolades from Bon Appétit Magazine and the James Beard Foundation. They have earned a Michelin star, and Zagat even named the restaurant one of the Top 10 in the world.
The globally inspired menu changes constantly and is meant to be shared. This is the perfect place to dine with a bunch of friends. About half the menu is served dim sum style on rolling carts, so you'll get to try many different things. You are charged by what you select. The atmosphere is casual and communal and there is seating at the bar.
The wine list is relatively small, maybe two dozen selections but as The World of Fine Wine puts it, "…what it lacks in scale it more than makes up for in depth and imagination…it never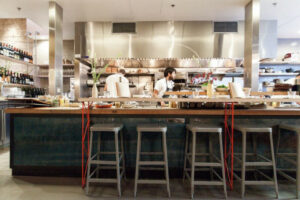 takes the expected path, offering Cinsault and Albariño from Calfornia and Altesse from Savoie alongside much-loved producers such as Thivin in Beaujolais and Lopéz de Heredia in Rioja."
The menu is unusual and creative and worth highlighting:
APPETIZERS
Blackberry Marinated Beets w/ Goat Cheese $5.00
Guinea Hen Dumplings w/ Aromatic Broth $5.00
Eggplant 'Fries', Sun Golds & Pimenton $6.00
Pickled Egg Salad, Nuts & Seeds $8.00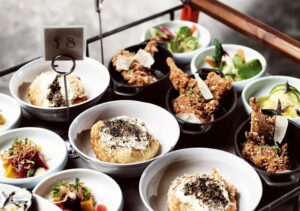 Steak Tartare w/ Grilled Pepperoncini $9.00
Kimchi Pork Belly w/ Tofu $9.00
PANCAKES
Sweet Corn & Garlic Chive "Short Stack" w/ Mt. Tam $7.00
Yeasted Sesame Pancake, Creme Fraiche $12.00
Mendocino Sea Urchin Ginger/Scallion Pancake, Soy Lime $12.00
COMMAND ABLES
CA state bird w/ provisions $8.00
Glazed Pork Ribs w/ Spigarello & Togarashi $10.00
Cumin Lamb w/ Scallions, Grapes & Zucchini $15.00
DESSERTS
Red Currant White Peach Granita Ginger Tapioca $8.00
Double Chocolate Pudding Birdseed Crunch, Plums. $8.00
Chocolate Mint Ice Cream Sandwich, Blackberries $2.00
ROMANTIC QUOTIENT: Nope, just great fun.
WHAT OTHERS SAY…
Michelin Star 2021
"40 Most Important Restaurants of the Decade" Esquire Magazine