Gary Danko is one of the most award winning restaurants in San Francisco. It has garnered Five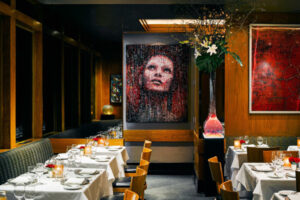 Stars from Forbes, Four Diamonds from AAA, a Michelin Star and has also earned several James Beard Awards, including Best New Restaurant, Best Service and Best Chef – California. The restaurant has also been awarded the Wine Spectator Grand Award for one of the best wine lists in the world.
Restaurant Gary Danko is the ultimate special occasion restaurant boasting a warm and romantic dining room festooned with lavish flower displays and stunning artwork. Cozy booths and dining nooks enhance the intimate appeal.
The food is classic French cooking, made with fresh, locally grown and raised foods from the region. There are 3, 4 and 5 course pre-fixe menus with wine pairings available. A recent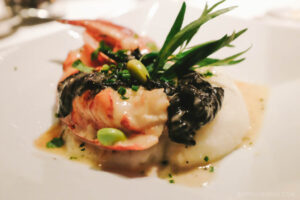 sampling of the menu includes:
Thai Lobster Salad with Summer Melons, Mango, and Smoked Eggplant; Seared Ahi Tuna with Avocado, Nori, Enoki Mushrooms, and Lemon Soy Dressing; Branzini with Fennel Purée, Niçoise Olives, Pepper Chermoula, and Saffron-Orange Emulsion; Moroccan Herbed Lamb with Mechoui Butter, Chermoula, and Farro; Quail Stuffed with Quinoa, Leeks, Marsala Mushrooms, Spring Vegetables, and Green Garlic; Warm Louisiana Butter Cake with Roasted Apples, Huckleberry Compote, and Vanilla Ice Cream and Baked Alaska with Orange Creamsicle Ice Cream, and Raspberry Sorbet.
The service is as near perfect as you can get. Servers are knowledgeable and friendly and leave you to enjoy your meal.
The wine list is quite spectacular and runs nearly 100 pages. It is not for the faint of heart, however, as there are very few bargains.
ROMANTIC QUOTIENT
Very high, you'll fall in love again.
WHAT OTHERS SAY
"There's a reason that after 18 years this restaurant is still one of the hardest reservations in town: The service is exemplary, the 94-page wine list is exceptional, the ambience is refined, and the food produced by Gary Danko and his crew is consistently excellent." San Francisco Chronicle