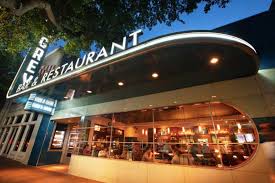 Owners Johno Morisano and Chef Mashama Bailey joined together to transform a 1938 art deco Greyhound Bus Terminal that had fallen into disrepair into The Grey, the hottest restaurant in Savannah. The designers modernized the property but kept the elements of the historical building that serve as the foundation for its charm.
They describe their cooking as "Port City Southern" which is southern ingredients with European influences. Bailey is largely self-taught (from the women in her family) but her experience extends to Prune in NYC and she was a finalist for the James Beard Foundation's Best Chef Southeast award in 2018.
Start with one of their creative cocktails or one of nearly 50 wines by the glass. House (1892 Atlantic Buccaneer, rum, cacvhaca, babana, OJ and milk nectar) and Vintage (New York Sour,

bourbon, lemon, sugar and red wine) and a fun selection of Atlantic Trade Flights like a Sloop John, Vintage Plantation Rum from Barbados, Trinidad and Jamaica. For snacks try the Corn Nuts or the Pickled Egg.
The Diner Bar is open for lunch and offers some wonderful items like Ham and Potato Croquettes, Hot Dogs, Chicken Fried Schnitzel Sandwich and amazing Beignets for dessert.
For dinner the diverse menu includes these favorites;  Shrimp Boil with watermelon, tomato and  basil; Whole Ro
asted Trout with fresh sweet onion relish, tomato and habanero; Chicken Country Captain with curry, almonds and currants. For dessert try the Beignets (again!) or the Frozen Chocolate Souffle with espresso almond crumble and benne seeds.
Nearly 50 wines by the glass with most priced in the $8-$16 range. Some interesting choices including Port, Sherry and Madiera.
WHAT OTHERS SAY…
In a renovated Greyhound bus depot from the 1930s on MLK Boulevard, chef Mashama Bailey (a vet of NYC's Prune who grew up in Savannah) offers contemporary Southern dishes with Italian influences, along with a slate of raw oysters. The land marked space has a skylight, preserved art deco features and an outdoor area, as well as a refurbished ticket booth that now stars as an open kitchen. ZAGAT