It would be hard to find a more intimate and romantic restaurant than Garibaldi's Cafe,  located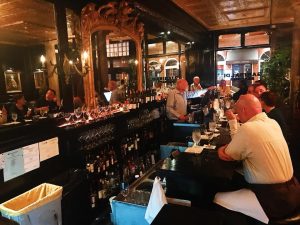 in the heart of the historic district in an 1871 firehouse. Dark woods, curved leather banquettes, a tin ceiling, marble columns, fresh flowers and perfectly set tables set the stage for a memorable dining experience.
A diverse menu with some very interesting choices. Here's what we enjoyed; Twenty-One Bean Soup with Andouille Sausage, Celery, Assorted Beans, Beef Broth topped with Sour Cream and Applewood Bacon; Poached Pear Salad with Arugula, Toasted Walnuts, Goat Cheese Fritters and Port Vinaigrette; an unusual Denver Lamb Ribs with Sweet Ginger Soy Glaze and Pear Cabbage Relish; Crab Cake Super Lump Crab, Lima Beans, Corn and Sausage; a dish I haven't had in years, Steak Diane, with Tomatoes, Mushrooms, Brandy and Dijon, Mashed Potatoes and Asparagus; Veal Chop Au Poivre, Pepper Seared, Wild Mushroom Brandy Sauce, Mashed Potatoes and  Haricot Vert.
There were some great looking desserts, but we chose the Almond Berry Basket that was just fantastic. Caramelized Almonds & Benne Seeds, Cinnamon & Vanilla Ice Creams, Fresh Berries
and  Chocolate Sauce. Amazing.
Good wine list with an Italian tilt. Fair values and pricing.
ROMANTIC QUOTIENT: High. Grab a booth along the wall, enjoy wonderful food and wine.
WHAT OTHERS SAY…
"There's something to be said" for this Historic District "favorite" housed in an 1871 firehouse that's "maintained its popularity for over 30 years" and continues to impress with a "superb" menu of Italian standards and seafood dishes presented with "top-notch" service in a setting that's "inviting yet grand"; the house specialty crispy flounder in apricot sauce is a particularly "outstanding catch" say fans, while "the bar offers wonderful potables", and couples find it "the most romantic place" for date night. ZAGAT