We came upon the wonderful Green Truck Pub on our last visit to Savannah because everyone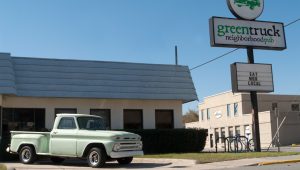 was talking about it. We kept hearing, "Have you been to Green Truck yet?" Too many people open restaurants with no real vision as to what they want to be or how they will differentiate from others. Not so, Josh and Whitney, founders of the Pub. They wanted to create a place where Savannahians could eat and drink well and they accomplish that by hand making everything from ketchup and pimento cheese to salad dressing and veggie patties and by sourcing everything from meat to cork boards close to home.
Here's how they set themselves apart (in their own words)
• source absolutely all of our grass-fed all natural, hormone free, beef from Hunter Cattle
Company in nearby Brooklet
• work with area farms to get produce in season
• caffeinate you with small-batch coffee from Perc Coffee right down the street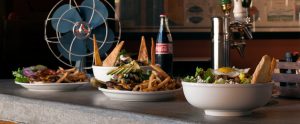 • print menus and t-shirts from local menu-ers and t-shirt-ers
• use booths, bulletin boards, mirrors, tables and chairs made, or salvaged and resold, by locals
• serve and imbibe beers from small American craft brewers owned and operated in the USA.
• recycle everything we can: glass, plastic, paper, cardboard, metal and cooking oil
• compost food waste when possible
So, the menu….these are things you have to try:
-Pimento cheese platter
-House made fries with house made ketchup
-Papa's Salad. Warm roasted potatoes, ham, Gorgonzola and cheddar cheeses, topped with a
sunny-side up egg and dressed in (Homemade) oregano red wine vinaigrette.
-A burger….any burger
-Chicken & Apples. Grilled Humane-Certified chicken breast with Dijon, thinly sliced apple,
provolone, onions, Ranch and the most unoriginal name on the menu.
30 bottled beers, 6 on tap, and a selection of wines available by the bottle and glass.
WHAT OTHERS SAY…
"Offering a "truly cool spin on farm-to-table" eats, this former "old fast-food joint" in Thomas Square draws everyone from locavores to "regular bros looking for a damn good burger", thanks to its grass-fed beef patties with "from-scratch" ketchup and pickles plus other "locally sourced" pub grub; diners finesse "long waits at peak times"with an "impressive selection of American craft beers" and some jukebox tunes." ZAGAT