Close your eyes and breathe in the scents of oregano, a wood burning fireplace and fresh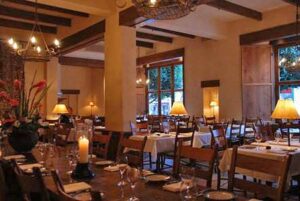 flowers. Your mind takes you to a small Greek Island and an intimate taverna. This is Kokkari Estiatorio.  Wood beamed ceilings, colorful pottery, flower vases and hardwood floors complete the picture. Candles and shaded table lamps cast a golden glow across the rooms. Crisp white linens and gleaming tableware lend an upscale feel to the cozy rooms.
The menu, showcases seafood and game and features many of the most popular traditional Aegean dishes. Start with Maroulosalata, a chopped salad with a creamy feta dressing, pine nuts and Kalamata olives. Or maybe grilled octopus garnished with lemon juice and olive oil or calamari stuffed with feta, fennel and orange. Also love the Soutzoukakia – grilled lamb meatballs with spiced tomato sauce & Greek yogurt. Fish is flown in daily from the Mediterranean and feature species of which you have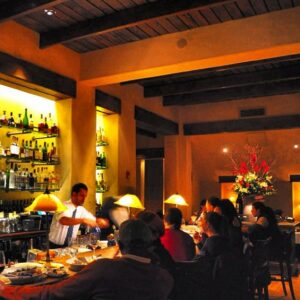 never heard and cooked over wood fires. Entrees include favorites; Kotopoulo Souvlas – lemon-oregano roasted chicken with briami, cilantro yogurt & Kokkari potatoes. The chicken is cooked on spits over a wood fire. Arnisia Paidakia – grilled lamb chops with lemon-oregano vinaigrette & Kokkari potatoes is another favorite. Have the Baklava for dessert, it's quite amazing.
Wine list has a Greek bent as you might expect, but good choices from all over. Good selection of wines by the glass and the list is primarily priced under $100. Opt for the Greek wines, they are delicious.
ROMANTIC QUOTIENT
With flickering candles, a roaring fireplace and wonderful aromas this is a place for a romantic dinner.
WHAT OTHERS SAY
"A perfect choice for a date or large party, this upscale Mediterranean stalwart with cozy-chic environs never disappoints". Frommer's