North Pond offers one of the most delightful settings in the City, nestled in Lincoln Park overlooking a Pond. When the weather is nice, dining outside is a treat and even in the winter, inside beside the fireplace it's warm and cozy. The interior is decorated in light woods, with hardwood floors, high ceilings and lots of windows. Crisp linens and gleaming tableware grace the tables.
Longtime chef Bruce Sherman stepped down in 2019 and turned the reins over to his chef de cuisine Tim Vidrio. Vidrio, 34, has been with North Pond since 2011 after working in kitchens including Le Francais, Moto and NoMi at the Park Hyatt Hotel. Sherman remains a partner.
Some menu highlights: appetizers: warm watercress-potato soup, goat cheese custard, smoked bacon-parmesan palmier, cress and ash-crusted monkfish loin medallion, maple-braised leek bâton, arugula pesto, crisp shallots, pine nuts, herbs; entrees: roasted Alaskan halibut, baby artichokes, butterball potato smoked brandade, sausage, tomato confit, barigoule broth and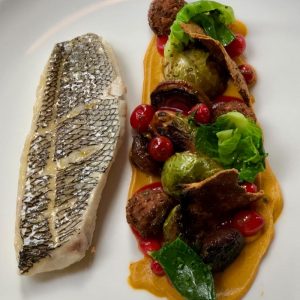 marrow-crusted charred flatiron steak, rutabaga-langue cake, rainbow chard, horseradish butter, glazed beets; desserts: banana, pineapple, caramelized pineapple, warm banana cake, Szechuan ice cream, tapioca pearls, macadamias and 80% dark chocolate mousse, Meyer Lemon, seville and moro orange, satsuma sorbet, ancho caramel, "cake".
The wine list has about 17 wines by the glass ranging from $14-$19. The full list is not lengthy, but has lots of good choices in the $50 range. Nice selection of ports, sherries, Madeira and dessert wines. Excellent collection of craft beers.
ROMANTIC QUOTIENT:
On a warm summer night under the stars, the City seems miles away.
WHAT OTHERS SAY…
A "pastoral" "oasis of fine dining" on a pond inside Lincoln Park, this "top-notch" New American offers "creative", "locally sourced" fare that's "artistic on the plate" in a "gorgeous" "Arts and Crafts building" with "jaw-dropping views of the city"; "subtly attentive" service that "makes you feel special" adds to the reasons it's "worth the splurge", especially "for a celebration." ZAGAT