I have a soft spot for French bistros and they don't come more authentic than Le Bouchon, a low-key, relaxed, bistro, which from the outside, looks like a traditional Irish/European pub. Inside, the tiny restaurant is intimate and classically decorated with warm booths, colors of beige and red, wicker baskets, floral arrangements and historical French artwork. Mirrors make the space seem larger than it is, but it is still warm and cozy. While the atmosphere is upscale the mood is anything but pretentious. The tavern style bar sitting alongside the back of the restaurant, added a lot of character and serves as the place to wait for your table.
Located in Bucktown area of Chicago, just southwest of Lincoln Park, the crowd is a mix of neighborhood folks and followers of Chef Jon Claude Poilevey. Originally from France, Poilevey came to the US over 40 years ago to start his restaurant business with friend. He opened Le Bouchon in 1993, and currently has 3 other restaurants throughout the city.
The menu is right out of the Left Bank with classic bistro dishes, wonderfully prepared, like Moules Marinières, teamed mussels with white wine and herbs, Escargots au Beurre d'Ail et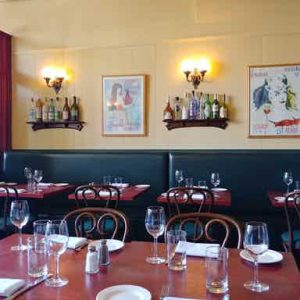 Persil, snails in Burgundy wine, Boeuf Bourguignon, beef braised in red wine, Bouillabaisse "Le Bouchon", fish, clams, mussels and shrimp in a saffron brothand Les Ris de Veau, sautéed veal sweetbreads with a mustard sauce. For dessert, try the tarte of the day.
Interesting cocktail menu, we enjoyed Le Metro, a very refreshing Grey Goose Citron, with Chambord and the Bouche Manhattan, which was served with a twist and absinthe. The wine list has roughly 60 choices, ranging in price from $40 to $250, with a lot of great wines in the $50 price range.
TIP: Have at least one meal at the marvelous restaurant when you are in town. Go very early or very late, and avoid Saturday nights. Even with reservations, you are going to wait.
WHAT OTHERS SAY…
As close to a Parisian bistro as you can get in Chicago", this "fairly priced" Bucktown kitchen on "Rue Damen" serves "tasty", "traditional" dishes like escargot and steak frites; tables are a "bit cramped" in the "cozy" space, but it offers "real French character.  ZAGAT