There are a lot of pioneers in the Napa Valley, on both the food and wine sides and Cindy Pawlcyn, owner of Mustard's Grill and Cindy's Backstreet Kitchen, is one of them. Born in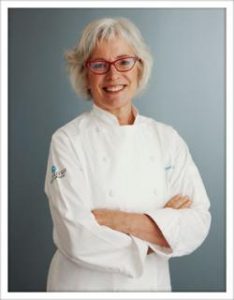 Minneapolis, she received a degree in hotel and restaurant management from the University of Wisconsin and received further training at Le Cordon Bleu and La Varenne in Paris. Her first job was at the renowned Pump Room in Chicago and in the early 80's she went on to be the opening chef at Meadowwood. She opened Mustard's in 1983 and has helped spawn a number of other Bay area restaurants. She is an inductee of Who's Who of Cooking in America, has also been twice nominated for the James Beard Foundation award for Best Chef in California and is the recipient of the Robert Mondavi Award for Culinary Excellence.
Pawlcyn was one of the first chefs to build  an organic garden where she could draw seasonal inspiration for her dishes, as well as treat her diners to the pure flavors of produce picked fresh just hours before arriving on the plate.
Today, after 30 years, Mustard's is still a favorite with locals and is a 'must' stop for tourists. Its fresh flavors and warm ambiance, have diners returning over and over.
Everything on the menu is good, but try the Dungeness crab cakes, with espelette aioli, garden greens and sherry vinaigrette. From the wood burning grille, the ribs are legendary and I loved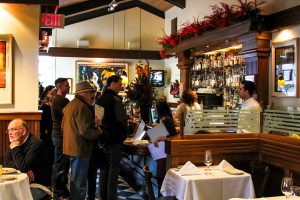 the many mustard rabbit, with proscuitto, brussel sprout leaves, sage roasted butternut squash and currants. Don't leave without enjoying an order of onion rings with a tomato apple ketchup.
This is a place to drink wine. There are about 27 wines by the glass, some interesting flights and an excellent selection of ½ bottles. The general list has selections from all over the world, with some unusual wines/grapes you don't see very often. See not so common whites and not so common reds. All unbelievably well priced.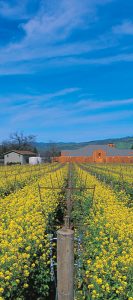 ROMANTIC QUOTIENT: This is such a lively and fun place, you aren't really thinking about romance
WHAT OTHERS SAY
A must-stop when in Yountville, this longtime favorite from chef-owner Cindy Pawlcyn offers a scrumptious Cal-New American menu (highlighted by a legendary Mongolian pork chop) along with an extensive wine selection; a casual, comfortable setting and accommodating service add to the overall enjoyable feel. ZAGAT