Bistro Don Giovanni typifies what a Napa Valley restaurant should be; a warm and comfortable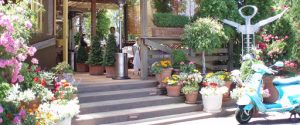 place to enjoy good food and wine. Owner Giovanni Scala is the consummate host and his personal touch has made this landmark a favorite of local winemakers, winery owners and anyone who enjoys food and wine. When it is cool outside, the flower filled dining room with a wood burning fireplace takes the chill away. As the days warm, the gorgeous outside terrace (also with a fireplace) sits amid olive trees and vineyards and the air is fragrant with the aromas of the land. This is the perfect place to while away an afternoon or linger over dinner with friends.
I started my meal with a roasted red pepper and tomato soup with mozzarella di bufala. Tomato with a pepper kick and creaminess from the mozzarella. The pasta course was a pappardelle with braised rabbit cacciatore, mushrooms, tomato and parmigiano. Lamb shank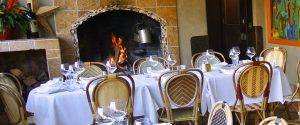 with a tuscan bean ragu, natural jus and gremolata was perfect for this chilly day and when paired with a Tenuta di Arceno, Chianti Classico, Toscana, it was a near perfect meal.
Dessert is a treat unto itself. Perhaps a rustic fruit tart or a warm raisin bread pudding? Or maybe just some biscotti paired with a wonderful Antinori, Vin Santo del Chianti Classico, Toscana dessert wine or a 20 year old Tawny Port or a house made Digestivi?
There are 27 wines by the glass and 20 in half bottles. The full list is diverse and the pricing makes for some exceptional values. Wonderful selection of Italian wines.
ROMANTIC QUOTIENT: A warm summer's day out on the patio can be magical.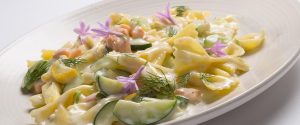 WHAT OTHERS SAY
A true wine-country experience, this seductive Cal-Italian is quintessential Napa, from its excellent food and lengthy wine list to the lovely setting and lively atmosphere; top-notch service and spectacular views of the vineyards make for destination dining at this escape to perfection.~ ZAGAT