Cole's is a wonderful steakhouse and is a favorite of locals particularly those who live in the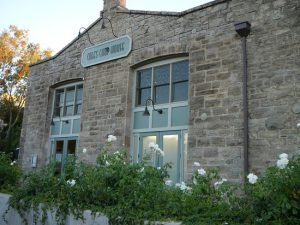 town of Napa. The 100 seat restaurant (plus 12 at the bar and 50 outside) sits in the center of town and occupies a unique stone building circa 1886. Inside, the two tier restaurant has the original open truss ceiling and Douglas fir floors. The golden plaster walls are decorated with antique French advertising posters and the bar is an antique mahogany from the Honduras.
Excellent cocktail  list and this certainly seems the place for Happy Hour drinks. Try the Napa Manhattan – Woodford #1 Reserve Bourbon, Antica Vermouth, Peychaud's, Port Cherries  or the Prohibition – Buffalo Trace Single Barrel Bourbon, Orange Slice, Port-Soaked Cherry, Sugar & Bitters.
The menu features 21 day dry-aged prime steaks, Midwestern corn-fed Black Angus Beef, formula fed veal, New Zealand lamb and fresh seafood. Their Cole's 'Famous' U.S.D.A. Prime – 21 Day Chicago Dry-Aged New York is exceptional and when paired with creamed spinach and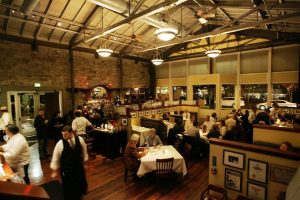 house hashed browns you'll feel like you've died and gone to heaven. Finish it off with a flourless dark chocolate cake with raspberries and whipped cream.
As wonderfull as the food is, it is the wine list that draws me here. Recognized as one of "America's Best Wine-Driven Restaurants – Award of Unique Distinction" by Wine Enthusiast Magazine, its concept is one of the most unique we have encountered. First they offer about 14 regular wines by the glass, but then they also offer another 16 'ultra premium' wines poured through the Coravin system in 2 or 3oz pours. You can sample Kistler Vineyards, Chardonnay, Oliver Leflaive Puligny Montrachat, Overature by Opus One, Shafter Vineyards Hillside Select Cabernet, Domaine de la Conti La Tache Grand Cru Vosne Romanee, Screaming Eagle and Chateau d'Yquem to name a few.
There's always a featured wine and they tell you all about it. The rest of the list is excellent and fairly priced. Cabs are organized by appellation and there are great descriptions of the characteristics of each. Keep the steak (well, not really), bring me the wine list!
ROMANTIC QUOTIENT: Not so much, but it is lively and fun.

WHAT OTHERS SAY
An "elegant" chophouse that "rivals the best of Chicago and NYC", this red-meat specialist from Greg Cole (Celadon) located "right in the heart of Napa is where to go when craving a "big, juicy steakand some "delicious sides" to go with that big Cab you brought"; set in a historic stone building, it boasts a full bar for cocktails and "incredible service", making it a prime, if "pricey", "pick for any celebration." ZAGAT