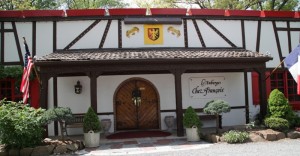 When I lived in the Washington area in the late 70's L'Auberge was one of the highest rated restaurants in the DC area and amazingly after over 40 years, it still is. They are now celebrating their 64th year. What a testament to Monsieur Francois and the Haeringer family to have maintained this kind of consistency for all these years.
Great Falls is about 45 minutes outside of DC, depending on traffic. The trip is an adventure and the drive to the restaurant evokes thoughts of an excursion into the French countryside. In fact, "auberge" refers to little Alsatian, countryside restaurants where the chef is the owner and "the guest is served like a neighbor". The décor, a kind of upscale Bavarian, hasn't changed much since I was last there; stucco walls, stained glass windows and dark wood beams. In this age of sleek and stylish, it is a throwback to another time and may seem a little eccentric at first glance. But, not long after we were seated, we slipped into the warm contentment of visiting an old friend.
We enjoyed a complimentary glass of Champagne and Chambord, with fresh raspberries while we perused the menu. This is classic French cooking, seldom seen anymore. Rene G, our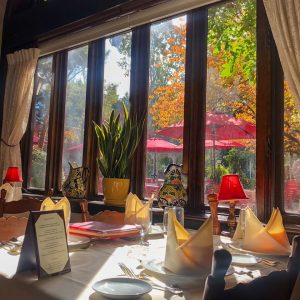 delightful and helpful waiter, guided us through the choices, inquiring about what we liked and steering us in the right direction. We started with homemade veal, chicken and rabbit sausage and a scallop wrapped in bacon on a bed of lentils and medallions of beef tenderloin on toast with tomato and onion confit and garlic butter, both very satisfying. Other choices included; escargot, frogs legs, foie gras, an assortment of pates and terrines, quenelle of lobster, pike and shrimp mousse and much more.all the classics.
It is so seldom that I can get authentic Dover Sole that when it is available my choice is made. This fresh Sole was sautéed with lobster, asparagus and wild forest mushrooms and was the best I have ever tasted. Jen chose the veal scallopini, with jumbo lump crabmeat, local Virginia
ham, wild mushrooms and a Madeira cream sauce. Amazing.
Lots of classic dessert choices, but the soufflé, in four flavors, is really the only choice.
The wine list features selections from California, Virginia, Alsace and Italy and is very reasonably priced. We asked Rene to suggest something new for us, but something dry and he selected Reisling Barth Rene Alsace 2001 Grand Cru Mambourg which was delicious.
When the weather cooperates, the place to sit is on the wonderful and romantic terrace. Inside, ask for a table by the fireplace.
ROMANTIC QUOTIENT: High on the Terrace. Medium in the other rooms.
WHAT OTHERS SAY…
AAA Four Diamond Award
Wine Spectator Award
"Everything clicks" at this "charming" country French setting in Great Falls, where the staff is "really glad to see you" and you "want to love everything" – the "plentiful"Provençal comfort classics, the "picture-perfect" garden dining and the all-"inclusive"prix fixe pricing; "dated in a good way", it's been a "favorite special-occasion" choice for decades, though for more relaxed dining, there's also an "adorable" brasserie downstairs. ZAGAT