Located a block from town, adjacent to the Vineyard Square Inn, Chesca's is a comfortable restaurant enjoyed by locals and visitors alike. It is mentioned often by people who live here as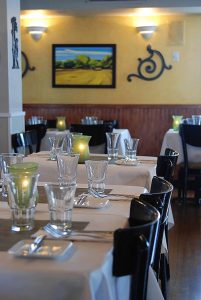 one of their favorites.
Start with a cocktail from the bar and sit on the outside porch in a rocking chair and watch the people go by. It's part of the ritual of dining at Chesca's.
The interior is very cozy with beamed ceilings, columns, comfy banquettes, small tables, wall sconces, and an open, airy feel. Bottles of colored glass line the window shelves and various artifacts adorn the walls.
Our server was friendly and helpful in describing menu items and brought us wonderful soft and hot oregano bread to start our meal.
The Tuscan white bean soup was delicious as was the Pizzetta Margharita. Loved the Farmhouse Greek salad, the Braised Beef Ribs and the Pappardelle Bolognese.
The wine list is limited, but fairly priced. A Brancaia Super Tuscan at $56 was a good buy.
ROMANTIC QUOTIENT: Fun, but noisy.
WHAT OTHERS SAY…
There is truly something for everyone" at this seasonal Edgartown "must" whose "yummy" Italian-American menu features a "nice mix of seafood, chicken and red meat", which is paired with "excellent" wines by a "polished and professional" crew; just "get there early to beat the regulars", as there are "no reservations except for parties of six or more", and the bright dining room with an enclosed porch can fill up fast. ZAGAT