Hugo's Cellar is a somewhat unlikely choice for dinner. It doesn't show up on any "lists" of the best restaurants in town, it has been around forever and it is located underneath the Four Queens Hotel, a decidedly down market casino on Fremont.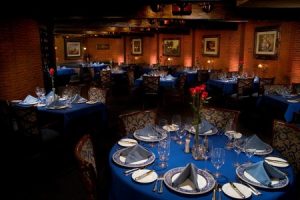 This is "old school" Vegas. It's dark with cozy booths, candles, artwork in gold frames splashed with light and waiters in tuxedos. The walls are brick and the tables set with crisp linens and sparkling tableware. The menu is classic with items like escargot, duck flambe, rack of lamb, charbroiled steaks, prime rib and more.
Salad arrives on a cart where you get to select the ingredients. The Captain then tosses the salad, adds a dressing of your choice and serves it on chilled plates with hot bread.
For an entree, I selected a Beef Wellington that was perfectly cooked and seasoned with a mushroom duxelle. It was delivered on a cart and sliced at the table. After dinner the Captain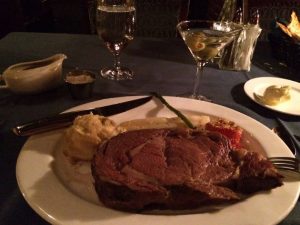 returned with a hot towel and then made a wonderful Bananas Foster table side. As they were preparing my bill, a server brought a plate of chocolate covered strawberries and figs.
Very nice wine list with plenty of choices and reasonable pricing.
ROMANTIC QUOTIENT
Very high. One of the most romantic in town. Women are given roses when they sit down.
WHAT OTHERS SAY…
"Divine" Continental plates and "old-school ambiance" provide a taste of "Las Vegas as it used to be" at this "romantic" Downtown den at the Four Queens casino where every lady receives a rose; the "classy" package has "high-end" prices to match, but "incomparable" service helps make it a "favorite among locals", particularly "for a special occasion." ZAGAT