Bouchon is the Las Vegas iteration of Thomas Keller's wildly successful French bistro in Napa.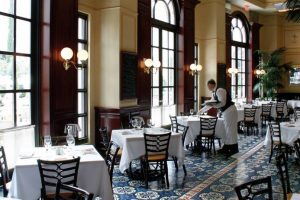 Keller, the Chef/Owner of the world renowned French Laundry, also in Napa, has created a near perfect restaurant where guests can enjoy breakfast, brunch or dinner, inside or on the patio.
Located in the Venetian Hotel on the 10th floor of the Venezia Tower, the space was designed by Adam D. Tihany who created the look of the original Bouchon. Soaring ceilings, mosaic floors, a beautiful pewter bar, antique lights and hand-painted murals by French artist Paulin Paris combine for an exciting French replica.
Breakfast is served Monday-Thursday from 7am, brunch Friday-Sunday, also from 7am and dinner daily from 5pm.
Menus change often, but some staples like roast chicken, steak frites and more carry over to new menus. Start breakfast/brunch with a beignet from Bouchon Bakery. Bet you can't eat just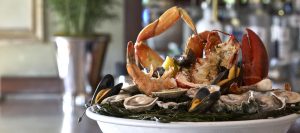 one. Then try the Hachis de Merguez, house-made merguez sausage hash served with two eggs any style & whole wheat toast or the Poulet et des Gaufres- roasted chicken with bacon-chive waffle. Crown maple syrup & sauce Chasseur.
At dinner, the Poulet Rôti – roasted chicken with potato purée, bacon lardons, melted savoy cabbage & chicken jus is as perfect as roast chicken gets. Gigot d'Agneau is a slow roasted leg of lamb with garden squash, glazed chestnuts, pearl onions & lamb jus, just perfect for a cool night. The onion soup is wonderful and the fries are to die for.
The wine list is carefully curated with selections from around the world. By-the-glass selections come in 1/2 or full glass pours. The restaurant offers a program called Vin en Carafe with wines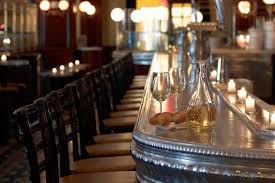 sourced from the wine regions surrounding their restaurants. These wines are selected in barrel and are only available in the restaurant while the barrel lasts. These wines are delicious and very affordable.
The oyster bar opens daily at 3pm and is a great place for an afternoon snack.
ROMANTIC QUOTIENT
This can be a loud, lively place. Not particularly conducive to romance.
WHAT OTHERS SAY…
Thomas Keller's "civilized" Venetian offshoot of his Napa original still gives "foodies" a "thrill" with "beautiful presentations" of "exceptional" French fare and "well-chosen" wines offered in an "elegant", "true bistro environment" designed by Adam Tihany; it may be a "splurge", but "effortless", "knowledgeable" service contributes to a "top-notch" experience that's "worth every cent. ZAGAT