Kathy Kneale and her son Andrew Kneale opened Harrison's Restaurant in December of 2003. Their goal was to create a restaurant that was a reflection of each of their lives growing up and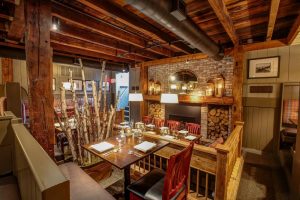 working in Stowe, they wanted a place where locals and visitors alike could enjoy comfortable, creative and affordable food in an environment that was casual yet upscale and unique to Stowe. That goal has been accomplished in a wonderfully cozy restaurant on the bottom level of a historic building on Main Street.
Wood beamed ceilings and posts, cozy booths, banquettes with plaid cushions and a wood burning fireplace create an intimate setting that is both comfortable and elegantly rustic.
The menu is upscale comfort with excellent preparation and presentation. Some menu highlights; Crab Cakes, pan seared crab cakes, dill and caper remoulade, marinated tomatoes,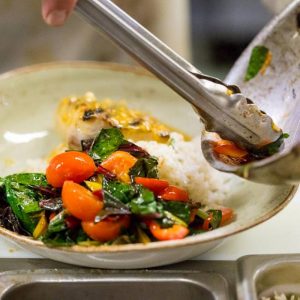 fresh lemon; marinated Tomato Brushetta, grilled ciabatta, marinated mixed tomatoes, pesto, scallions, basil, capers, crumbled feta cheese, balsamic syrup drizzle; Statler Chicken Breast, pan seared Statler chicken breast, Cabot cheddar cream sauce, carmelized apples, mashed potatoes, roasted broccoli; venison Flank Steak, grilled marinated venison flank steak, red wine vinaigrette, crumbled blue cheese, roasted potatoes, wild mushrooms, bacon, grilled onion, baby spinach; Harrison's Burger, local Boyden Farms beef, toasted brioche bun, Cabot cheddar, shredded romaine, tomato, special sauce, hand-cut fries, pickle. For dessert, try the Peanut Butter Pie, creamy peanut butter pie, chocolate ganache, Oreo cookie crust, crushed peanuts, fresh whipped cream.
A surprisingly good wine list constructed by someone who knows wine. La Vielle Ferme Rosé is my favorite rose, Domaine Fournier "Les Belles Vignes" Sancerre '18, is a delicious Sauvignon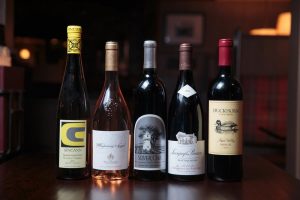 Blanc, Ken Wright Cellars Shea Vineyard Pinot Noir '17 Willamette Valley, OR, Shea Vineyards produce the best Oregon Pinot Noir grapes and Michael David "Petite Petit" Petite Sirah/Petit Verdot '16 Lodi, CA is a wonderful wine.
ROMANTIC QUOTIENT
Cozy booths, a roaring fire…doesn't get much better.