It's not often that food, ambiance and service all come together at the same time. But when it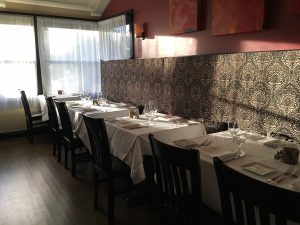 does it can be a magical evening. Such was the case when we visited Detente. Tucked into a corner of Nevin Square just off Water Street, this wonderful husband and wife owned delight has it all working.
There's a small, but bustling wine bar, a main dining room and a cozy outdoor patio. When the weather is nice, the patio is the place to sit. The fenced in courtyard with tiny sparkling lights all around is intimate and quiet and perfect for a romantic escape.
The main dining room has hardwood floors and beige/gold walls accented by wine country pictures and dark wood framed mirrors. The mirror frames match the dark mission chairs surrounding tables set with crisp white linens. Rust colored banquettes add some color to the room, willowy beige curtains grace the windows and wall sconces cast just the right amount of light across the room. The result is casual elegance and comfort.
Kevin Crowell's food is a blend of American, French and Italian cuisines utilizing fresh island ingredients. While the menu is limited to a half dozen appetizers and a half dozen entrees, you are guaranteed to find something delicious and unusual.
We started with an appetizer portion of the pulled pork bolognese with goat cheese raviolis over a basil puree. It was so good we were tempted to order another. Ric
h and flavorful, yet still light enough for this summer night. Our other appetizer was fresh island peaches, sprinkled with white truffle oil and vergus, covered with warm tallegio cheese served on a bed of peppery arugula. Quite remarkable in texture and flavors.
I could have eaten any of the six entrees available this evening but selected slow roasted rack of lamb over curried white beans with local zucchini, ginger and mint in a lamb jus. Amazing. My guest had a roasted bone-in beef tenderloin set on a fresh corn puree and sauteed spinach with fois gras torchon. A wonderful take on an old standard.
Dessert was a delicious blueberry bread pudding and had I had the room would have sampled some of the unusual artisanal cheeses.
We were served by one of the regular, very competent, black clad wait staff, assisted by Suzanna, one of the owners, so we wanted for nothing. It's clear that people enjoy working here with the Crowells.
This is a wonderful wine list for many reasons. I love the way it is organized; dry white, aromatic, other great reds and so forth. There are a healthy 13 wines by the glass and 9 1/2 bottle choices. The care with which the list was developed is evident. We enjoyed a delicious Argiolas "Costamalino" Vermentino Di Sardegna and a quite amazing Cline "Ancient Vines" Mourvedre. Couldn't resist a second glass.
ROMANTIC QUOTIENT: Inside is small and can be noisy, but the patio has fewer tables and is more quiet and intimate.
WHAT OTHERS SAY…
"Exquisitely prepared New American cuisine is the raison d'être of this refined Edgartonian where the menu is built around seasonal, local foods, served in a stylish manner by helpful, engaging staffers and worth the high prices; the romantic, nicely decorated interior has recently expanded to the second floor, but the best seats are in the garden (you need to request it when you make the reservation)." ZAGAT