Born & Raised is a fantastic steakhouse opened in 2017 in Little Italy. The $6.5mm project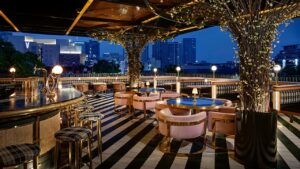 created a 10,000 square foot restaurant with 250 seats that pays homage to the mid-century and art deco eras. Downstairs is classic steakhouse décor with leather booths, wood paneled walls, green marble table tops and lots of brass. Makes you think of old Hollywood glamour. Upstairs is a delightful open-air rooftop dining room, overlooking Little Italy, with a rectangular bar centering the room and booths around the perimeter.
You can get all the usual steak cuts, many dry-aged on the premises, but what really sets this steakhouse apart is its throwback to years past, both in service and menu items. Tableside carts offer a rotating selection of dishes prepared while you watch, including beef tartare and Shrimp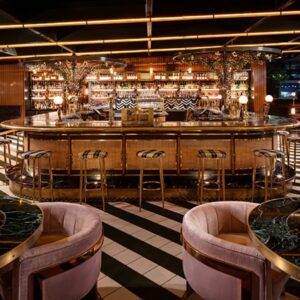 Louis, plus Martinis, Manhattans and Rob Roy cocktails shaken at the table. This is one of the few steak restaurants we've encountered that offer classics like Steak Diane and Beef Wellington.
After dinner, you can enjoy more classics with drinks like a Brandy Alexander, Grasshopper, Stinger and more.
Service is crisp and efficient from tuxedoed servers and captains, wearing Converse sneakers. Makes it elegant without the stuffiness.
The wine list is broad with many good choices, but it is expensive. Have to search for options under $100.
ROMANTIC QUOTIENT: Not so much. This is a lively and loud steakhouse.
WHAT OTHERS SAY…"There are tons of phenomenal restaurants in San Diego, but I've never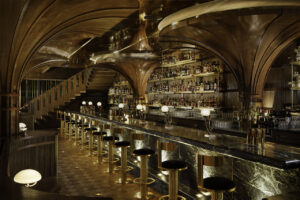 been so impressed, well taken care of, and stuffed, than I have been at Born and Raised Steakhouse in Little Italy. Set in the 1920's with table side preparation, old school classics, and stiff cocktails, Born and Raised is part show and complete excellence." SDFoodies.com