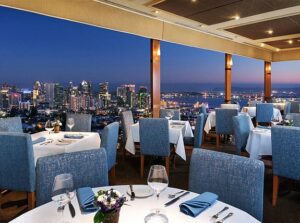 Wow, inadequately describes the view from Mister A's 12th floor restaurant overlooking the in downtown SD. You're so high up, planes are actually landing below you at the airport.
Whether you are there for lunch (Fridays) or Brunch (Sundays) and sitting on the delightful patio, or for dining in the evening with the City all lit up, this is a San Diego experience you won't want to miss.
Created by renowned restaurateur Bertrand Hug, owner of the popular Mille Fleurs in Rancho Sante Fe, this Modern American restaurant with French and Mediterranean influences is about as special occasion as you can get.
Chef de Cuisine Stephane Voitzwinkler, helms the kitchen and his Alsatian upbringing infuses his cuisine with this region's unique mixture of cultures: while French ingredients and techniques dominate, the Alsatian German influence makes itself evident in Mister A's dishes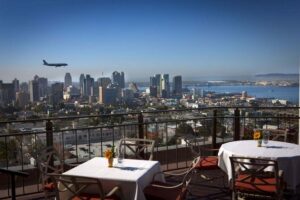 like spaetzel, choucroute and house made sausage. As an example of this, we enjoyed a wonderful Pork Schnitzel with brown butter sauce, lemon and capers at lunch one day.
Nice cocktail list and wines by the glass. Try the Burnt Orange Old Fashioned,
Templeton Rye And Buffalo Trace Whiskies, Burnt Orange Reduction, Orange Angostura.
Some menu highlights: Saltspring Island Mussels "Provencale", Garlic Herbs "Gratin"; Blue Fin Tuna Tiradito, Cucumber-Jalapeno Aguachile, Sesame, Sunchoke Chips; Braised Prime Beef Shortribs, Cabernet Sauvignon Reduction; Roasted Rack Of Lamb, Herbes De Provence, Cannellini Beans, Thyme Garlic Jus; Hazelnut Crusted Local White Sea Bass, Lemon Thyme, Asparagus, Champagne Butter; Spiced Chai Creme Brulee, Shortbread Cookie, Seasonal Fruit; Vanilla Bean Cheesecake, Poached Pears, Champagne Gelée, Walnut Brittle, Rosemary, Pomegranate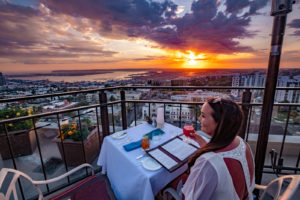 WHAT OTHERS SAY…
 "For decades, this venerable 12th-floor dining room with panoramic views and polished service, led by the restaurant's namesake Betrand Hug, has reigned as a celebratory fine-dining destination. Chef Stephane Voitzwinkler's California-luxe seasonal cuisine is complemented by a popular happy hour that draws an after-work and pretheater crowd for cocktails and bites." Fodor's
Best of Award of Excellence – Wine Spectator