Addison, at the Fairmont Del Mar Resort, is San Diego's most acclaimed restaurant earning two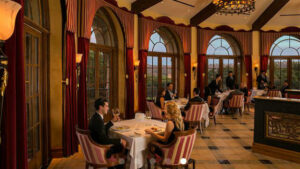 Michelin stars, AAA Five Diamond and Forbes Five Star Awards and Wine Spectator's Grand Award. Chef William Bradley is a Grand Chef of Relais & Chateau and was the winner of the Culinary Master Competition.
The formal dining room is elegant with rich fabrics, traditional furniture and Oriental carpeting. Tables are beautifully set with crisp white tablecloths, crystal, sterling silverware and china.
The Contemporary French menu is a prixe fix at $295 for 9 courses. Menu changes often.
ROMANTIC QUOTIENT: Very high. This is a sexy, sophisticated restaurant.
WHAT OTHERS SAY…
 "Chef William Bradley's standard-setting dining room is exceedingly ambitious and his team is cooking world-class ingredients with exceptional skill, leaving you hungry for more. The tasting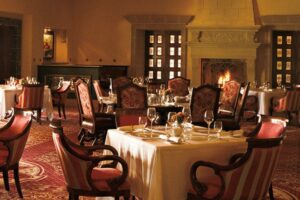 menu is marked by glorious presentations and enhanced by the harmonious application of global flavors.
Addison's cuisine while constantly evolving also retains the chef's signature of incredible precision and polish. A quintet of opening bites show finely tuned flavors that are assertive but never overbearing. Imagine the likes of sake-cured kampachi with dashi meringue, Kumamoto oysters with pickled green strawberry, or potato rösti with Wagyu tartare. Other enticing entrées, like chawanmushi with sea scallops as well as caramelized cod with battera kombu, exemplify his masterful control over technique, flavors, and textures. Your meal may conclude with a selection of visually stunning small bites, including a petite peach tart with a fluted fruit leather "shell" and milk pudding filling.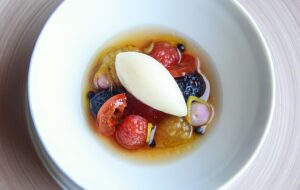 The rarefied mien of this setting suits the cooking beautifully—with plush marble columns and inlaid floors. Service is at its peak, combining genuine hospitality with gracious pacing." Michelin Guide