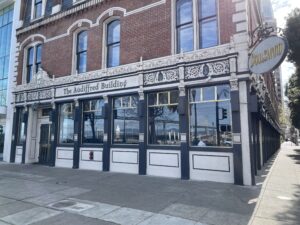 Opened by acclaimed chef/owner Nancy Oakes in 1993, Boulevard is a favorite of locals and tourists alike. The restaurant has received local, national and international accolades, including The James Beard Foundation Award for Best Chef in California and Outstanding Restaurant in the United States, as well as the Filiale des Etats-Unis in France.
Housed in a glorious Beaux Arts building, a survivor of the 1906 fire, the restaurant is decorated with artisanal mosaics, iron work, hand blown glass and hardwood floors, the look suggests a bygone era. It is warm and comfortable and the vibe exudes a wonderful energy. The large bar is always full for drinks and dinner and you are likely to start up a conversation with the diners around you.
Apart from the wonderful food is a fantastic wine list. It was my first exposure to the Corovin Wine System that preserves wines after they have been opened. For about $100 I was able to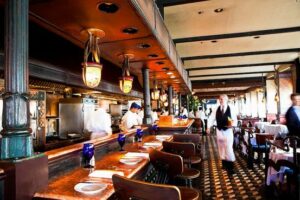 enjoy 3 amazing wines that I would never spend on for a full bottle. The list changes but here's a recent sampling: Puligny Montrachet, Francois Carrillon, 2020, $45, Chateauneuf- du-Pape, Chateau de Beaucastel 2006, $45. The rest of the list is varied and very fairly priced.
Speaking of food, however, Oakes pioneering farm-to-table menu blends traditional French culinary styles with regional American flavors from local farms and purveyors. The $119 prix fixe menu is innovative and exciting and features Oake's takes on some traditional menu items; steak tartare is paired with burrata; roasted beets with figs and Roquefort and Dungeness Crab is served with galia and Korean melon, cucumber, avocado and gooseberry mint yogurt. Entrees
include a Wolfe Quail with a buckwheat blini shortstack, fresh cherries & sunflower seed butter, herbed ricotta, red chard & crispy sage and a Berkshire Pork Chop with Japanese sweet potato, cauliflower fiorentino, pickled peach, piggyback rye & wild pecan relish. Try the "A Very Cherry Mess" for dessert; pavlova crumble, cherry balsamic swirl ice cream, sour cherry sorbet & rose hip creme fraiche. A la carte dining is available in the bar, lounge and Chef's Counter.
ROMANTIC QUOTIENT
This is just a fun place where everyone is enjoying themselves. Kind of an upscale "Cheers". Not much for romance, but who cares.
WHAT OTHERS SAY…
"22 Restaurants We Go Back to Over and Over" GQ Magazine