Acclaimed celebrity chef David Burke is a Jersey Shore product (he worked at the original Fromagerie) and he came back two years ago to open Drifthouse by David Burke in Sea Bright on the second level of the Driftwood Cabana Club. Burke's 30+ year career began at the Culinary Institute of America and has included stints with some of the cooking greats around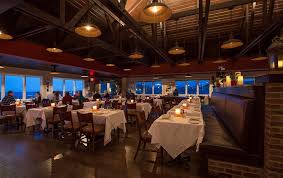 the world. He is known as a culinary pioneer for his revolutionary products and cooking techniques. Over the years, Chef Burke has become one of the most recognized chefs on television, including appearances on two seasons of Top Chef Masters, guest spots with Rachael Ray show, NBC's TODAY Show, Fox and Friends, Bloomberg's small-business television series The Mentor and more.
Drifthouse offers superb views of the Atlantic Ocean and sunset views over the Shrewsbury River. The dining rooms are elegantly decorated and feature many pieces of Chef Burke's own artwork. The smaller dining room, often used for private parties, features a warming fireplace with a stone mantel.
Arrive early enough to enjoy a creative cocktail at the bar as you watch the waves crash on the beach outside. The Winter Spiced Old Fashioned is made with Asbury Park Double Barrel Bourbon Whiskey with an almond-vanilla winter spiced syrup and is perfect for a winter night.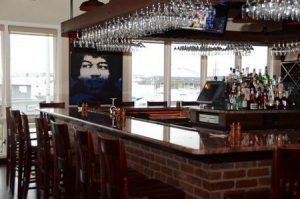 The Apple Harvest Pisco Punch is made with Pisco 100 a colorless Peruvian Brandy, Apple Cider Liqueur, lemon juice, cinnamon-honey simple syrup and a cinnamon sugar rim. Yum!
Burke's creative genius shows throughout the menu with unique items not found elsewhere. Consider Bacon, served on a clothesline glazed with maple and black pepper, or Angry Lobster Dumplings served with Angry Sauce and a lobster reduction. Or perhaps his signature Pastrami Salmon "Carpaccio" served with a cucumber salad and buckwheat blini. Oysters are harvested fresh from an oyster tank, as are fresh lobsters from a lobster tank.
The pastas are delicious, particularly the Bolognese and the Organic Roast Chicken is wonderful. For a real treat, though, have the 40 day salt aged porterhouse for two. It is a process using Pink Himalayan Rock Salt that has been patented by Burke. Add some "Hipster" fries and Spinach & Mushrooms, and perhaps a glass of 2017 Treanna Cabernet Sauvignon, Paso Robles to complete the meal.
For dessert, have the Apple & Caramel Tacos; sea salt caramel ice cream, sweet crème fraiche or the Cheesecake Lollipop Tree; cherry pink cashmere, three chocolate tuxedo, toffee top hat
whipped cream, berries.
Excellent wine list with good choices and reasonable pricing.