Make your way to the river end of Coryell Street, turn right at the Blue Raccoon and follow the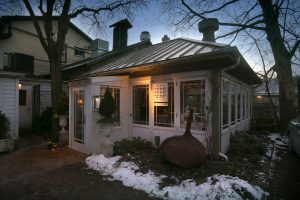 tree covered alley, first to the Boathouse for cocktails. The Boathouse is open just for cocktails, no food; not even peanuts, but the setting is so comfortable and charming that you wouldn't want to miss it. Just across the courtyard is the delightful Hamilton's Grill Room, a small, intimate Mediterranean style bistro with an open kitchen and nestled beside the flowing canal. The food is simply prepared, mostly grilled, presented in natural juices and very delicious. While seafood is their signature, they do equally well with meat and poultry.
At a recent dinner I started with North Atlantic oysters, fresh and sweet and they filled my request for a red wine and shallot vinaigrette. Jen had the sautéed crab cakes with an avocado salad – loaded with crab meat and just crispy on the outside. For my entrée I had a perfectly roasted farm chicken cooked in its own juices with a honey bourbon glaze and Jen had a grilled rack of lamb with a delicious mustard chutney. We skipped desserts, but enjoyed the rest of our wine and coffee as we watched the lights dance across the waters of the flowing canal. What a satisfying experience.
This is a BYOB restaurant and we suggest stopping at Welsh's Wines on S. Union Street in Lambertville for a bottle of wine. Excellent selection and good values.
ROMANTIC QUOTIENT: High. An outside table next to the railing and overlooking the canal is private and romantic. Tiny strung lights add sparkle to the setting. In the colder weather opt for a table in the open kitchen room.
WHAT OTHERS SAY…
"Tucked away" on the canal in "charming", "arty" Lambertville, this "enduring local favorite" BYO features a "frequently changing menu" of "delicious" Mediterranean dishes, though regulars "stick to the grilled options"; the setting's "cozy" enough, but an after-dinner drink at the adjacent boathouse makes for a "perfect evening." ZAGAT