OVERVIEW of Woolverton Inn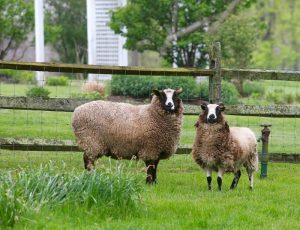 High on a hill surrounded by 300 acres of spectacular countryside, the circa 1792 stone Woolverton Inn offers THE ultimate bucolic retreat from your everyday life. Sheep grazing in the meadow, deer prancing across the field, the scent of freshly mown grass or a roaring fire make this a wonderfully romantic weekend spot.
THE ROOMS at Woolverton Inn
A comfortable veranda on which to sit and read, a stone patio to enjoy breakfast and eight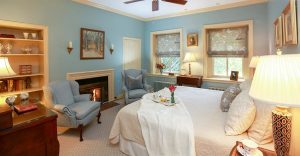 rooms/suites and five cottages beautifully and thoughtfully designed and decorated create the feel of visiting a luxurious private country estate.
My favorite rooms are Stocktons Hideaway in the main building and the Audubon and Cotswold cottages. All have window seats with great views, fireplaces and whirlpools. The Cotswold also has a wonderful private screened in porch.
DINING at Woolverton Inn
The breakfasts here are legendary with things like homemade apple cranberry turkey sausage, Grand Marnier French toast, freshly squeezed OJ and homemade blueberry lemon muffins.
THE SERVICE at Woolverton Inn
Amenities include a full country breakfast (in bed if your prefer), afternoon refreshments, fresh flowers, CD players, featherbeds, terry robes, luxurious Egyptian cotton towels and linens and daily delivery of the NY Times.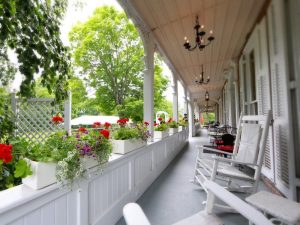 The Woolverton Inn and grounds are so comfortable and serene you will be tempted not to leave, but there is much to do in the surrounding area. It's great to know, though, what you will be coming back to at the end of the day.
THE RATES at Woolverton Inn
From $399 Peak Season weekend.
PROMOTIONS at Woolverton Inn
Click here for this property's promotions.