OVERVIEW of Lambertville House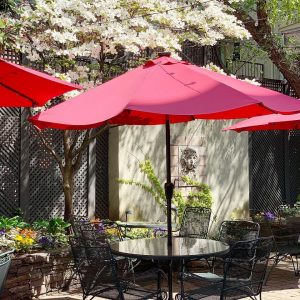 Lambertville House, a historic inn listed on the National Register of Historic Places sits a few blocks from the Delaware River in the heart of Lambertville. With 26 rooms and suites, this splendid facility has been welcoming guests for almost 200 years. It has retained the charm of its long history, but has been restored to present day conveniences.
THE ROOMS at Lambertville House
Any place that has coffee and newspapers available at 6am and breakfast at 6:30am gets my
vote as a good place to stay. But that's not all there is to like here. The rooms, most with fireplaces, balconies and/or courtyards are beautifully decorated, very well maintained and of ample size. On our last visit, we stayed in the Queen Courtyard Suite, which had two rooms; a hot tub room with a fireplace and a bedroom with a fireplace, a separate bath with shower and an intimate balcony overlooking the courtyard. There was Internet access, turndown service with chocolates and even television speakers in the bathroom. A soft comfortable bed with luxury linens, thick towels and bathrobes all made this a delightful experience.
DINING at Lambertville House
Enjoy a cocktail in Left Bank Libations, as cozy a bar as you will ever see, before heading out for the evening. Relax in comfortable easy chairs or plump couches inside or front porch or garden seating outside.
Dish Catering curates the food program, offering Cheese & Charcuterie, Small Plates, Sandwiches, Soups, Salads and Entrees for dinner. Weekly specials. A "Continental Plus" breakfast, included in the room rate, is served every morning on the lower level.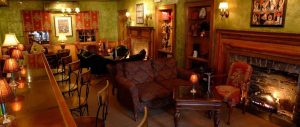 Guests have the use of the Center Club, a fitness center, a short distance from the hotel.
Lambertville is a great little town just to walk around. Lots of little shops, antique stores, art galleries and restaurants all within a few blocks of this hotel.
THE RATES at Lambertville House
From $290 Peak Season weekend.