OVERVIEW of The Virginia Hotel
The Virginia Hotel, is a landmark building circa 1879 and located in the heart of the historic
district, just a few blocks from the beach. Wraparound porches and a delightful outdoor dining patio beckon in warm weather and a lively bar area around a roaring fireplace and grand piano in winter make this a favorite spot for both locals and tourists.
THE ROOMS at The Virginia Hotel
There are 24 rooms in the main building and 5 spacious cottages along Jackson Street. Rooms are elegantly decorated in soothing shades of gray and turquoise with splashes of color from artwork, fresh flowers and accent pillows. Luxurious beds are set with Belgian linens and Italian duvets and rooms are equipped with flat screen televisions, plush towels and an assortment of Bulgari products. Complimentary Continental breakfast is offered each morning and there is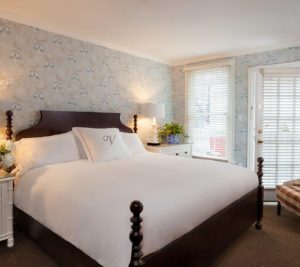 complimentary access to sister property Congress Hall pool, just around the corner. There is a fully serviced private beach area with complimentary set up of chairs and towels and optional food service delivered to you right at the beach.
The cottages are wonderfully decorated and equipped. They are ideal for longer stays during the season or when traveling with friends or family.
DINING at The Virginia Hotel
The Ebbitt Room is a culinary experience for this or any other town. Dinner here is worth the trip alone.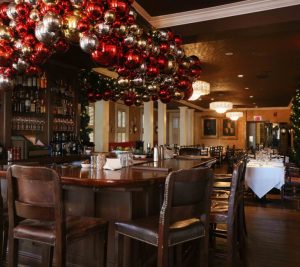 Start your evening with a specialty cocktail on the porch or in the living room around the fire, but get there early because this is a hot spot in town.
The room is elegant with beige wallpaper, white trim and columns, cyrstal chandeliers, red carpeting and red banquettes. Tables sparkle with crystal, china, silver and set with crisp linens.
There's much to like on this delicious menu from a short rib and shrimp basil ravioli with a horseradish alfredo sauce served with crispy shallots and a tomato basil salad to a blue crab salad with endives, apple, fennel, watercress, avocado, radishes, orange segments and Green Goddess vinaigrette as appetizers.
For entrees, we tried a pan roasted Australian barramundi (a wonderful sea bass family fish that I had never had) with Meyer lemon scented sunchoke puree, fava beans, english peas, pancetta, roasted mushrooms and a green garlic tomato compote. Equally enjoyable was a grilled Durac pork chop with spicy polenta, wilted young spinach and grilled lemon.
The cheese plate was wonderful, but the chocolate truffle cake with vanilla bean ice cream with espresso syrup was off the charts
The wine list is wonderful with selections from the regions you would expect but also from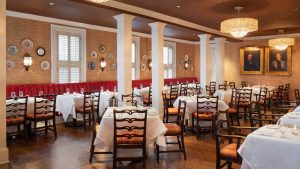 places like Languedoc-Roussillon, Slovenia and Greece which you don't see very often. Prices are reasonable and there are some real finds here. Excellent reserve list, good half bottle choices and very good dessert wine and port selections.
THE SERVICE at The Virginia Hotel
The downside to properties whose primary business is seasonal is that once the summer help goes back to school, the service begins to suffer. Not so, here. There appears to be enough core staff working year round, that service in the hotel and restaurant was exemplary, even during one of our visits which was in the winter.
THE RATES at The Virginia Hotel
From $540 Peak Season Weekend
WHAT OTHERS SAY About The Virginia Hotel
The Hotel
Continuing to make a splash, this "beautiful" 1879 Cape May landmark "perfectly situated between the beach and shopping" excels at classic "detail"-driven, "B&B hospitality"; "wonderfully inviting rooms" that combine "old-world charm" with "modern" grace notes (e.g. Bulgari bath products), plus "terrific" food at the "romantic" on-site Ebbitt Room further prompt the question "why don't more people know about this gem?" ZAGAT
The Restaurant
2019 Award of Excellence by Wine Spectator Magazine.
"As close as you'll get to formal dining" in Cape May, this "elegant", "ultraclassy" American in the historic Virginia Hotel offers a "stellar" menu crafted from "local ingredients"; a few feel it's "too stuffy" and "pricey" for the beach, but most say that the "excellent" service, "wonderful period decor" and "great porch" make it a "must-try." ZAGAT
PROMOTIONS at The Virginia Hotel
Click here for this property's promotions