OVERVIEW of The Inn on Main

We were thrilled a few years back when Inn on Main opened in our little town. There had not been many properties if this caliber in the area, so this was a welcome addition. Ideally located in the center of town, within walking distance of the train station and restaurants, and just a mile from the beach,
THE ROOMS at The Inn on Main
The Inn has 12 beautifully decorated and large rooms, some with balconies, all with sitting areas and all with fireplaces, pillow top beds, thick terry towels and Bio toiletries. Each room has its own distinctive character, but all are luxurious, comfortable and make you forget you are in Manasquan. These rooms are as nice as ones we have seen in Newport, Martha's Vineyard, Charleston and Key West and other places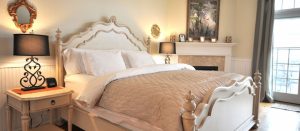 we have traveled.
All of the rooms are spacious and well appointed. Third floor rooms are slightly larger. My favorite rooms are #302 and #305, they are particularly large, very cozy and have balconies, fireplaces and large marble bathrooms.
This is the perfect place to house a wedding party, overflow relatives at the Holidays, friends coming to town for a reunion. And, if you need to get away from the kids for a night, there is no better place for romance in the area.
DINING at The Inn on Main
The acclaimed Blend on Main Bistro occupies the ground floor. Sister restaurant the Peach Pit serves breakfast and lunch.
THE RATES at The Inn on Main
From $219 Peak Season weekend
PROMOTIONS at The Inn on Main
Click here for this property's promotions.