OVERVIEW of the Harborfront Inn
The historic village of Greenport, New York is the perfect base for a visit to the North Fork of
Long Island. Ideally located at the eastern end of the North Fork, Greenport gives you easy access to many of the best wineries and two short ferry rides get you first to Shelter Island and then to Sag Harbor on the southern shore in The Hamptons.  The best of both worlds. The quaint town, which has been a working seaport since the 18th century, is a wonderful blend of nostalgia and the modern world. You'll find a restored Art Deco movie theater, an antique carousel and many merchant signs in town are from another era. At the same time you'll enjoy trendy restaurants, contemporary boutiques and delightful art galleries. There is a real sense of community here. This is small town America at its best.
There are lots of inns and B&B's on the North Fork, but we had heard about the Harborfront Inn, the web pictures looked great and the price was very reasonable (unusual in these parts, even in Winter). We weren't disappointed. In fact, we were charmed. Set right on the water, with spectacular views of the Bay, the beautifully decorated inn is a perfect weekend refuge.
THE ROOMS at the Harborfront Inn
There are 35 rooms and suites, most with full or partial water views, and they are large, averaging 400 sq. feet. They're decorated in earth tones with Berber carpets, custom cherry
wood furniture in a kind of Mission style and colorful oil paintings and local photography. Our room had a comfortable leather club chair and ottoman, flat screen TV and CD player. Bed linens are high quality and luxurious. Bathrooms have limestone vanities, sinks that sit on the counter, glass enclosed showers (with multiple shower heads) and stone tiled walls and floors. They feature EO Toiletries. Rooms 201-204 have straight facing waterfront views with balconies. The sun rises right before your eyes.
DINING at the Harborfront Inn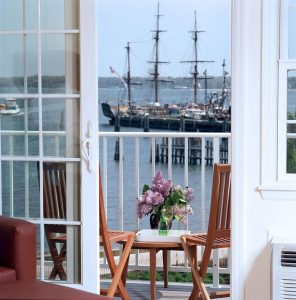 The bright lobby has wonderfully comfortable chairs and couches and a warming fireplace. Great place to read the morning paper (available early around the corner at a convenience store) and enjoy the complimentary continental breakfast, especially the delicious coffee.
The Greenport Tea Company is a terrific lunch choice, have some oysters at the Frisky Oyster before dinner and maybe a glass of wine at VINe (April-January) then enjoy an amazing dinner at the North Fork Table & Inn. See our review.
OTHER at the Harborfront Inn
An 800 square foot fitness center is equipped with what you need for a good work-out and when the weather is nice, the outdoor pool overlooks the bay.
THE RATES at the Harborfront Inn
From $545 Peak Season Weekend
PROMOTIONS at the Harborfront Inn
Click here for this property's promotions.