OVERVIEW of the Delamar on Greenwich Harbor
The Delamar on Greenwich Harbor is ideally located in tony Greenwich, Connecticut, easily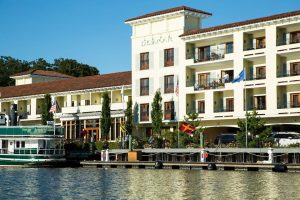 accessible from NYC, New Jersey, New England and even Philadelphia. Waterfront rooms and great dining make this a wonderful weekend escape.
Opened in 2002 after extensive renovations, this absolutely charming 83 room luxury hotel overlooks Greenwich Harbor in a wonderful waterfront setting. A day or two here will leave you relaxed, rejuvenated and ready to do battle on Monday.
The first floor public rooms are elegantly decorated with rich fabrics, beautiful rugs and smart artwork. When I visited in December there was a towering, brightly lit Christmas tree in the center of the lobby. The library, just to the left of the entry is a wonderfully comfortable room with plump couches and chairs, a warming fireplace and coffee and other refreshments available at all times. Just beyond that room is another cozy sitting area overlooking the Harbor. In nice weather the doors are opened to an outdoor patio, perfect for a meal or cocktails.
THE ROOMS at the Delamar on Greenwich Harbor
There is really no point in getting any room other than one with views of the Harbor. Most of these also have a balcony with iron patio furniture that makes breakfast overlooking the Harbor a romantic event in itself. The rooms are spacious and luxuriously decorated in a way that feels more like home than a hotel. My room had a hand painted armoire and headboard, antique end tables, a kind of faux finish beige wallpaper with pale green crown moldings, interesting artwork including a cloth tapestry and metal framed mirrors. The bed was covered in soft Italian linens with down pillows and a down duvet. A flat screen TV, a CD player and a mini-bar with Dean and Deluca treats round out the amenities. The marble bathrooms are also oversized and equipped with coral marble vanities set with a vase of fresh Gerber daisies, iron lamp sconces, a hand painted framed mirror and a deep soaking tub framed in curtains of hand embroidered linens.
DINING at the Delamar on Greenwich Harbor
L'escale is everything you want a hotel restaurant/bar to be; it is almost always open, serving breakfast, lunch and dinner, the drinks, wine list and food are wonderful and the setting, either inside or on the terrace could not be more conducive to a romantic evening. Cocktails at the Terrace Bar, dinner on the patio overlooking the Harbor and dancing to the Saturday night DJ will surely be one of those "perfect" evenings you'll long remember.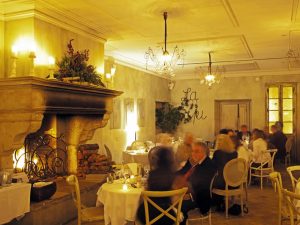 Start at the bar and try one of the Seven Deadly Virtues cocktails and if you are lucky the delightful Louie will be behind the bar. He will end up being part of the evening's enjoyment.
When the weather is nice you will certainly want to eat out on the terrace, but the huge stone fireplace imported from France in the chic all white dining room will keep you warm and cozy on a winter night.
The menu is deliciously Provencal with the generous use of fresh herbs, light broths, roasted vegetables and fresh seafood. Start with clams, oysters, shrimp or mussels. Maybe try the onion tart or the charcuterie. I had a terrific pumpkin ravioli with a brown butter sage sauce with pine nuts. For entrees the aromatic bouillabaisse looked fantastic and the Dover Sole was tempting, but I chose the grilled tuna that was cooked just the way I like it…just pink and served with a peppercorn sauce and tomato compote. For dessert, do not miss the black and white chocolate soufflé with pistachio sauce and treat yourself to a glass of port.
The wine list understandably favors France, but also has a good selection of hand crafted, small production wines from all over the world. The list is not long, but there are excellent choices and the pricing is fair
THE SERVICE at the Delamar on Greenwich Harbor
Everything seems so effortless that it is not until later that you realize how good the service was. From the efficient check-in (where we were automatically upgraded and they never even mentioned it) to the quick check-out (where we were offered bottled water for the road) the staff was friendly and accommodating yet I never felt it was forced. The front desk escorts you to your room, your room is prepared for the night when you return from dinner and room service arrives when they say they will. Coffee is available in the Library for early risers and there is a full time concierge available to assist in your visit.
THE RATES at the Delamar on Greenwich Harbor
From $422 Peak Season Weekend
WHAT OTHERS SAY About the Delamar on Greenwich Harbor
The Restaurant
"Class distinction is alive and well" at this "gorgeous", "upscale" waterside French in Greenwich's Delamar Hotel, where "hedge-funders and wannabes" sit outside and "watch the yachts dock"
in the harbor in the warmer months, and warm up by the wood-burning stove in the "elegant", candlelit dining room in winter; the "tasty", "inventive" fare is served by a "well-trained" staff, though some find it "aloof" and "pretentious", while others chafe at the "decibel level" and the "bumper-to-bumper" bar scene at night. ZAGAT
PROMOTIONS at the Delamar on Greenwich Harbor
Click here for this property's promotions