OVERVIEW of the American Hotel
Located in a quaint, waterfront village, with just 8 rooms, an excellent restaurant with a spectacular wine list and a bar everyone seems drawn to, the American Hotel is what I would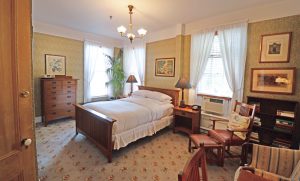 want my hotel to be like if I owned one. This place has personality in an age of minimalist and sterile accommodations.  It reminds me of the charming Algonquin Hotel in New York City. Since purchasing the property in 1972, Ted Conklin has lovingly restored and maintained this little gem while building its reputation for great food and wine. A favorite of celebrities in the know whatever the season.
The comfortable lobby with its antique check-in counter, easy chairs, couches and board games strewn about opens to the bar area with an old wood bar that has probably been there since the beginning. This is a great bar, manned by veteran bartender Vinnie, and flanked by dining tables and a fireplace. It is a popular gathering place for locals and visitors alike and has a "Cheers" kind of atmosphere.
The front porch has tables and chairs on which you can enjoy a glass of wine, read the paper and watch the people go by. Life doesn't get much better.
THE ROOMS at the American Hotel
The rooms are simple, but very comfortable. Elegantly decorated in antiques and fine fabrics, rugs and artwork, each has a character of its own. My recent room was done in Shaker furniture. All rooms have a two person Jacuzzis, a fully stocked mini-bar, imported Italian towels and bathrobes and a thick down duvet. The shower takes its place among our Hall of Fame Showers!
DINING at the American Hotel
Plan at least one meal here. The food is excellent and the atmosphere warm and inviting.
After dinner, take a stroll through the delightful little village and stop in one of the pubs for an after dinner drink. The perfect end to a day in the Hamptons.
OTHER at the American Hotel
A few years back, Conklin purchased a wonderfully restored 75′ 1965 Trumpy that is available for charter. It has 3 beautifully appointed staterooms. Home port will be Sag Harbor from May-September, then Newport and New York in October, the Ocean Reef Club in Key Largo in November and then in Palm Beach from December-May. Take a look at trumpyamerica.com. Something for 3 couples to share for a really special occasion.
THE RATES at the American Hotel
From $650 Peak Season weekend
WHAT OTHERS SAY About the American Hotel
You could get "lost in time" at this 1846 hotel on Long Island's South Shore, if it wasn't for the "eclectic cast" of cutting edge "local celebrities, writers" and other "A-listers" in the bar and "fabulous restaurant" (with the best wine list"); most say it's filled with "old world" charm perfect for a "romantic" stay, but others who are put off by "snobby" service and "no facilities to speak of" insist it's "coasting". ZAGAT