OVERVIEW of Stowe Meadows
Elmore is a few miles outside of Stowe and the drive to Stowe Meadows takes you up the mountain and through the woods, but you'll be rewarded for the trek with a gorgeous luxury B&B with stunning mountain views and owners who couldn't be more hospitable and accommodating.
Perched on a hilltop overlooking a pond, beautiful gardens and sweeping lawns, the property was originally intended to be a vacation home, but the owner's plans changed and current owners Caroline and Erich purchased the property, completed the work and decorating and opened the inn in 2006. They are hands-on owners who do everything themselves from the cooking and cleaning to the yard work and snow removal. Always a better experience when owners actually run a place and this couple makes you feel like you are visiting friends.
The main floor is an open space with large windows affording great views of the grounds and the mountains beyond.French doors open onto a wrap-around porch. Couches and chairs surround a large stone fireplace and bubbling waterfall, a dining table hosts breakfast and the occasional dinner and a gourmet kitchen produces the excellent food.
THE ROOMS at Stowe Meadows
There are only 4 rooms, (all with mountain views) so it is particularly intimate and ideal for families or couples traveling together. I met two great couples from Boston during my stay and we shared a cocktail and enjoyed the dazzling sunset.
My room, The Lodge Master Suite, was one of the best I have enjoyed in some time. Large at 600 square feet, the bedroom walls were painted in a light yellow faux finish with red and green accents in pillows and upholstery. It had a wonderful 14'x16′ cedar deck where I enjoyed a newspaper and coffee in the morning. Gas warming lamps extend the outdoor season into the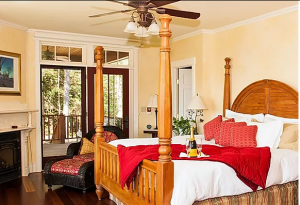 chilly Fall. The room featured a King 4 poster Tempur-Pedic bed with luxury linens, a comfortable reading chair and ottoman, upholstered window seating and a gas fireplace. The huge bath suite painted in a rich burgundy faux finish had two toilets and sinks, built-in cabinetry, radiant floor heating, a jacuzzi tub for two and a wonderful steam shower with two rain forest shower heads. Locally made toiletries perfumed the air with aromatic scents.
DINING at Stowe Meadows
Breakfast is served at 9am and is a joint effort of the owners. While the menu changes daily we started with incredible muffins and fruit and yogurt, followed by eggs, locally made sausage, cheese grits (Caroline is from South Carolina) and a wonderful heirloom tomato and fresh peach salad with fresh herbs from the garden.
With enough notice, Caroline will whip up a 4 course dinner for guests on weekends using locally sourced products.
Complimentary hors d'ouevres are served each evening on the porch or around the fire.
THE RATES at Stowe Meadows
From $240 Peak Season weekend.